Photography how-to's
Tilt Shift Photoshop Tutorial: How to Make Fake Miniature Scenes - Visual Photo Guide - Visual Photo Guide. I discovered the Tilt Shift technique perusing the photography of Drew Wilson , an uber talented young photographer here in Sarasota.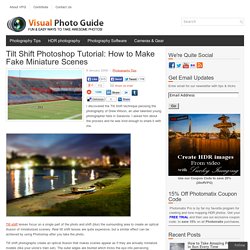 I asked him about the process and he was kind enough to share it with me. Tilt shift lenses focus on a single part of the photo and shift (blur) the surrounding area to create an optical illusion of miniaturized scenery. Real tilt shift lenses are quite expensive, but a similar effect can be achieved by using Photoshop after you take the photo. Tilt shift photographs create an optical illusion that makes scenes appear as if they are actually miniature models (like your uncle's train set). Unrealistic Scenes on Photography Served. Unrealistic Scenes some things you'll never see This is an ongoing project of composite photographs.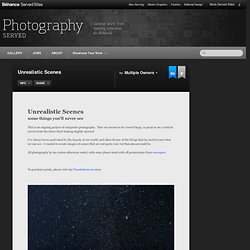 Photoshop Tutorials To Suit Your Taste. Mar 01 2011 What do you do when you have an idea?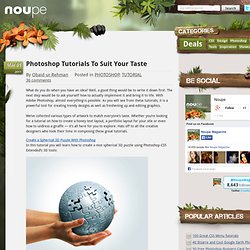 Well, a good thing would be to write it down first. The next step would be to ask yourself how to actually implement it and bring it to life. With Adobe Photoshop, almost everything is possible. Quick Tips: Instagram your images using Photoshop. Instagram reinvented the photo sharing on our social media structure.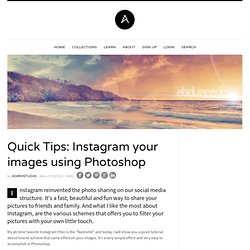 It's a fast, beautiful and fun way to share your pictures to friends and family. And what I like the most about Instagram, are the various schemes that offers you to filter your pictures with your own little touch. My all-time favorite Instagram filter is the "Nashville" and today, I will show you a quick tutorial about how to achieve that same effect on your images. Creative & Attractive Photoshop Tutorials. These handy tutorials are so creative and attractive,tutorials are basically used for your guidance which helps you for create effects in different pictures which you can see in our post.Please let us know if you like our post through comments.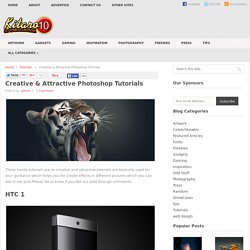 Aquatic Sounds Magical Scenes. Achieving a Vintage Look Through Color Tones in Photoshop CS. By Guest Contributor Anna Gay Photographers are often striving for a "vintage" look in their photos, and even though there are endless ways of achieving a vintage look, there are a couple of characteristics to keep in mind.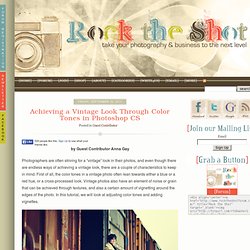 First of all, the color tones in a vintage photo often lean towards either a blue or a red hue, or a cross-processed look. Vintage photos also have an element of noise or grain that can be achieved through textures, and also a certain amount of vignetting around the edges of the photo. In this tutorial, we will look at adjusting color tones and adding vignettes. Tutorial Magazine / photoshop / effects. 10 Examples of Incredible Starry Night Sky Photography, and a How-To Video.
---