Boozle
How to Make Caramel Apple Shots. Photo: Michelle Oddis Once in a while, a party trick comes along that grabs our attention.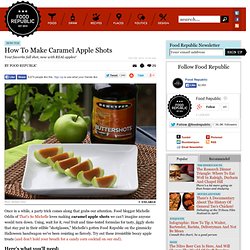 Food blogger Michelle Oddis of That's So Michelle loves making caramel apple shots we can't imagine anyone would turn down. Using, wait for it, real fruit and time-tested formulas for tasty, jiggly shots that stay put in their edible "shotglasses," Michelle's gotten Food Republic on the gimmicky Halloween bandwagon we've been resisting so fiercely. 10 Jello Shots Worth the Hangover. The food blogging world has taken the classic frat house Jello shot and broken the mold (literally) by replacing the Popov vodka and dixie cups with exotic ingredients and fancy molds.
These newfangled shooters even sport glam garnishes, so they'll fit right in at your swanky soirée. Take a gander at these beautiful, jiggly creations! Blueberry Martini Jello Shots from Bionic Bites. Wine Types Chart. Cocktail Guide. Spiced Apple Cider Recipe. Alcoholic Soaked Gummy Bears | Recipe | Cut Out. Nutella Shot Recipe. Skittles Vodka Tutorial.
---