Gifts to make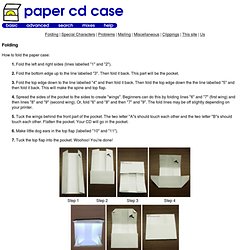 Folding | Special Characters | Problems | Mailing | Miscellaneous | Clippings | This site | Us Folding How to fold the paper case: 1.
Cheese Straws Recipe at Epicurious
Cheddar Cheese Straws Recipe
blog
Happy New Year! Trying to maintain eco boundaries in the middle of winter holiday chaos? It can be tough, particularly with all of those ribbons and bows tempting us at every turn.
36 Green Gift Wrapping Ideas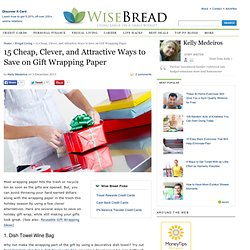 Show me an ingredient, and I'll show you a new way to make shortbread.
10 Things to Do With Shortbread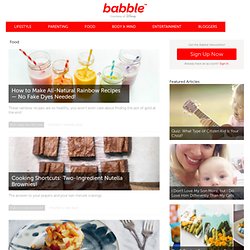 Make your own Halloween spider web decoration for your home! | my untangled life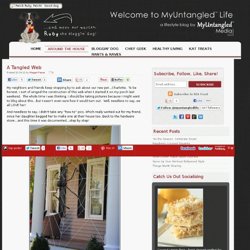 My neighbors and friends keep stopping by to ask about our new pet…Charlotte.
One of the things I like to do for Christmas is to make treats for people as gifts. It started in part as necessity while I was in grad school–I couldn't afford to give gifts to everyone I wanted to, but I could make treats. I've always made our traditional family Christmas cookies, but then started to want to give different kinds too.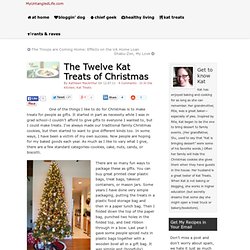 Edible Gifts for the Holidays - We're counting them down! | my untangled life
Hot Chocolate On A Stick produces delicious blocks of chocolate fudge that can be dissolved in hot milk to produce rich, creamy hot chocolate! This is truly a candy that does double duty: enjoy eating it plain, or use it as a hot chocolate base, or do both! This clever candy makes a great gift, and you can make endless variations: add large marshmallows to the hot chocolate skewers, roll the fudge blocks in crushed peppermint or cocoa, or drizzle them with white chocolate before packaging.
Hot Chocolate On A Stick Recipe - How to Make Hot Chocolate On A Stick - Christmas Candy Gifts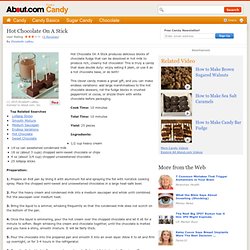 We eat a lot of tortilla chips and spicy food in our house. I mean… a lot.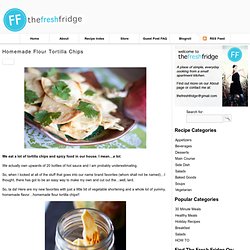 Homemade Flour Tortilla Chips
Homemade Pretzels
Homemade Pretzels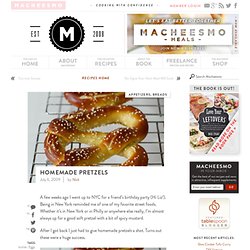 Home made sprinkles
I made these cute little clothes pins to use in the kitchen for bag clips.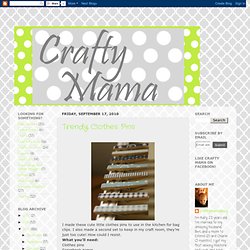 :) Crafty Mama: Trendy Clothes Pins
[donotprint] I know its not summer yet but I don't care.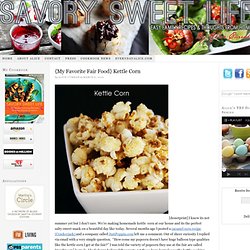 Easy Homemade Kettle Corn
Who says your kitchen is just for making dinner? With a few simple ingredients, you can also create Homemade Sugar Scrubs, Bath Salts, and Soap Crayons. Here are 7 simple gifts you can stir up, whip up, and wrap up in your kitchen that will rival even the fanciest of bath and body retailers.
7 Homemade Holiday Spa Gifts
This week I'm feeling tired. Yes, I'm getting sleep, spending time in nature, connecting with friends and moving my body daily, but I'm realizing the kind of tired I'm feeling is a cumulative tired—from the past month, probably even the past year! So I'm moving slow and mindfully—particularly knowing what the next several weeks hold.
Six Ways to Create a Meaningful Holiday Season - Mamapedia™ Voices
Mexican Hot Chocolate Cupcakes
Mexican Hot Chocolate Cupcakes
For the brownie base: 3/4 cups flour 1/2 teaspoon salt 1 tablespoon dark unsweetened cocoa powder (like Valrhona) 5 ounces good quality dark chocolate (60 to 72%), coarsely chopped 1/2 cup (1 stick) butter, cut into 1 inch cubes 3/4 cups sugar 1/4 cup firmly packed light brown sugar 3 large eggs, at room temperature 1 teaspoons vanilla extract For the buttercream: 3/4 cups sugar 2 tablespoons flour 3/4 cup milk 2 tablespoons heavy cream 1 1/2 sticks (3/4 cup) butter, softened but still cool, cut into small cubes 3 tablespoons creme de menthe 1 teaspoon peppermint extract For the chocolate glaze: 6 ounces good-quality dark chocolate (60 to 72%), coarsely chopped 1 teaspoon light corn syrup 1/2 cup (1 stick) unsalted butter, softened, cut into cubes
Food gifts are always a favorite of mine. These Cinnamon Honey Butter jars make a pretty presentation when you add a little bling to the jars, and pair with homemade bread, pound cake, biscuit mix or even bagels! I've made several batches already, and we wont mention how much my family has devoured!
How to make Cinnamon Honey Butter