Entrepreneur
13 Tips for Increasing Your Company's Google Rank. Scott Gerber is the founder of the Young Entrepreneur Council, a nonprofit organization that promotes youth entrepreneurship as a solution to unemployment and underemployment.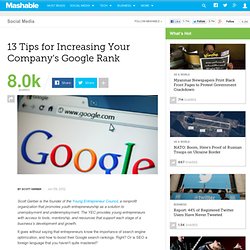 The YEC provides young entrepreneurs with access to tools, mentorship, and resources that support each stage of a business's development and growth. It goes without saying that entrepreneurs know the importance of search engine optimization, and how to boost their Google search rankings. Right? Or is SEO a foreign language that you haven't quite mastered? 7 Things Highly Productive People Do. You probably don't want to admit it but you love distractions.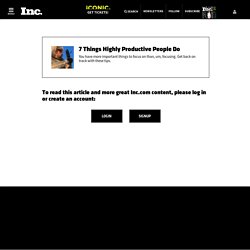 In fact, just like monkeys, you get a shot of dopamine every time something pulls you in another direction. Why do you think you check your email so much? Want to be more productive and get your focus back? There are no secret tricks here… do one thing at a time. Stop multitasking—it's just another form of distraction. 5 of the Best Free Writing Software and Tools for Aspiring Novelists. EmailEmail Whether you're the next Jack Karouac or the next NaNoWriMo dropout, any novelist who takes the craft seriously is going to need the right tools to write.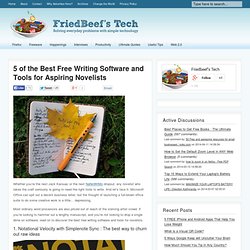 And let's face it: Microsoft Office can spit out a decent business letter, but the thought of launching a full-blown office suite to do some creative work is a little… depressing. Most ordinary word processors are also priced out of reach of the starving artist crowd. How to Use Social Media For Better Customer Acquisition. The Digital Marketing Series is supported by HubSpot, an inbound marketing software company based in Cambridge, Mass., that makes a full platform of marketing software, including social media management tools.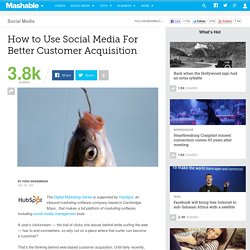 A user's clickstream — the trail of clicks she leaves behind while surfing the web — has to end somewhere, so why not on a place where that surfer can become a customer? That's the thinking behind web-based customer acquisition. Until fairly recently, that was a relatively straightforward proposition: Just run some banner ads and search ads and then continue the conversation through email. Social media adds some complexity. Nowadays, a tweet might lead to your Facebook Page or maybe a detour to LinkedIn. The Best Time Investments You Can Make | Living Frugally | Psychology Of Money.
We all agree that time is more valuable than money.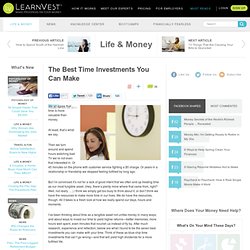 At least, that's what we say. Then we turn around and spend hours watching bad TV we're not even that interested in. Or 45 minutes on the phone with customer service fighting a $5 charge. Or years in a relationship or friendship we stopped feeling fulfilled by long ago. How to Self Publish Your Book: From Idea to Bookstore (And All the Steps In-Between) - CBS MoneyWatch.com. Last Updated Sep 29, 2011 3:47 PM EDT Empowering a child's imagination through reading is one of life's greatest gifts.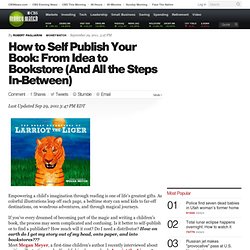 As colorful illustrations leap off each page, a bedtime story can send kids to far-off destinations, on wondrous adventures, and through magical journeys. QR Codes - Understand the User Profile and Best Practices. QR Codes seem to be at the center of the questions that I received this week.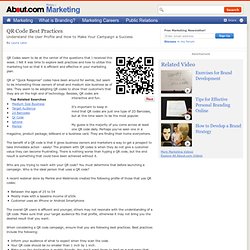 I felt it was time to explore best practices and how to utilize this marketing tool so that it is efficient and effective in your marketing plan. QR or "Quick Response" codes have been around for awhile, but seem to be interesting those owners of small and medium size business as of late. They seem to be adopting QR codes to show their customers that they are on the high end of technology.
Besides, QR codes are interactive and fun. It's important to keep in mind that QR codes are just one type of 2D Barcodes, but at this time seem to be the most popular. What Is A QR Code And Why Do You Need One? We all know that one of the keys to great SEO is making sure you keep your website updated, new and fresh.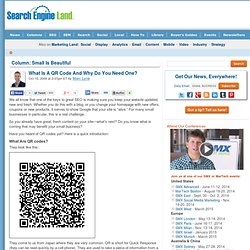 Whether you do this with a blog, or you change your homepage with new offers, coupons or new products, it serves to show Google that your site is "alive." For many small businesses in particular, this is a real challenge. 10 YouTube Videos Every Entrepreneur Should Watch. This YouTube video seeks to help aspiring executives prepare themselves to be strong CEO candidates in the future.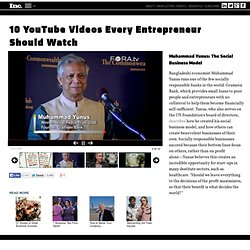 Professor Joseph Bower from the Harvard Business School believes anyone hoping to hold a corner office someday should be able to ask serious questions—and answer them objectively—about their own work and the work produced by the company. Becoming a CEO is all about constantly learning and improving oneself—and later, others—to establish a true role within a company, instead of merely being a placeholder. Bower also recommends that CEOs-in-training take an interdisciplinary approach to networking, thus promoting innovation within the company.
Business Ideas for the Self Employed. Several years ago, I had a lovely long-term consulting assignment which kept me both busy and solvent.
One morning I woke up and realized that it was coming to an end and I had nothing lined up. After a few moments of panic, I decided to get serious about creating my next income source. I didn't have a great deal of time to devote to this, so I gave myself the challenge of finding a way to earn $100—an easily accomplished goal. What I didn't realize at the time, was that I had just created a new habit that has kept my business—and cash flow—moving smoothly along. Over time, I've learned that there are other benefits to this simple technique. 29 Ways Small Biz Can Do Big Things With Technology, Brains, Innovation, Passion and Smiles. Small businesses have very big challenges. It's hard to obtain financing. We have limited resources to call upon – hence we're up until the wee hours of the morning and waking up a few hours later. The rise of the "persocial" web. What do Pandora for music, Zite for news, or Amazon for shopping — along with many Silicon Valley startups I'm meeting these days — have in common?
• They are all offering the user a personalized experience by leveraging his/her social network. • They also provide a social experience in line with every single user's personal taste and identity. Why Intelligent People Fail.
---