Cats
March 2007. Dance 24" x 24" All work and no play makes Andrea a dull girl, and her blog reflects this.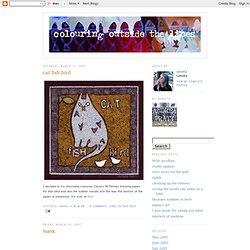 I don't know who said that, but they were very wise. Meantime, I am one painting away from completing a series I started nearly 10 months ago, so work is all that's on my mind right now (ergo more tedium), and when painting #12 is done it's time for the real hard work: gallery submissions. I decided to do this series first before thinking about marketing, so I wouldn't be pressured by a deadline to produce, unlike my first solo show 18 months ago or the four-artist landscape show this time last year. Of course now that I have the oeuvre, what happens if I can't find the venue? Cat's Balcony Scene, on Enclosed Spaces Called 'Catios' - NYTime. Catio Showcase.
Cat products, cat toys, cat furniture, and more…all with modern. Cat Ladders around the World on The Cat's Meow. C A T - L A D D E R S. How to Tell if Your Cat is Plotting to Kill You. How to Tell Your Cat is Plotting to Kill You Drawn by Matthew Inman , Founder & Designer of Mingle 2 The font used on this website is a free font called Diavlo More from Mingle 2.
Meowmania. 82026084.jpg (JPEG Image, 790x508 pixels) Love Meow - for Ultimate Cat Lovers.
---