Cats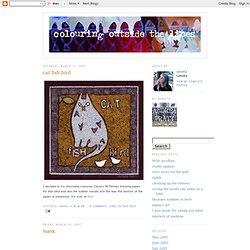 Dance 24" x 24" All work and no play makes Andrea a dull girl, and her blog reflects this. I don't know who said that, but they were very wise. Meantime, I am one painting away from completing a series I started nearly 10 months ago, so work is all that's on my mind right now (ergo more tedium), and when painting #12 is done it's time for the real hard work: gallery submissions. I decided to do this series first before thinking about marketing, so I wouldn't be pressured by a deadline to produce, unlike my first solo show 18 months ago or the four-artist landscape show this time last year. Of course now that I have the oeuvre, what happens if I can't find the venue?
March 2007
Cat's Balcony Scene, on Enclosed Spaces Called 'Catios' - NYTime
May 27th, 2011 The Scottish Mafia at Home in Their Florida Catio Judi and her husband live in Fort Pierce, Florida, where their lives are controlled by their four Scottish Folds, AKA the Scottish Mafia. Liam, Fiona, Fibber and Oliver have a kitty paradise in their giant 6′ x 12′ screened in catio that Judi and her husband added onto their already large screened porch area. Inside this tropical paradise, the kits get to enjoy cat-safe foliage including patio palms, impatiens and parsley, plus tons of other feline amenities. Climbing ramps and perches are all made from untreated rough-sawn cedar that's wrapped with natural sisal.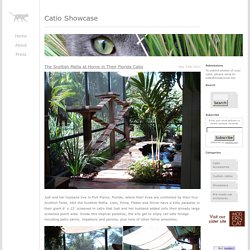 Catio Showcase
cat products, cat toys, cat furniture, and more…all with modern
Cat Ladders around the World on The Cat's Meow
C A T - L A D D E R S
How to Tell Your Cat is Plotting to Kill You Drawn by Matthew Inman , Founder & Designer of Mingle 2 The font used on this website is a free font called Diavlo More from Mingle 2
82026084.jpg (JPEG Image, 790x508 pixels)
This kitty loves playing with water in the sink so much that she decides to give herself a bath there. Itty Bitty the 3-legged kitty is adopted by a special human who is also an amputee. When Brian Gentilotti met the tripaw kitten, he knew it was the perfect match.