Info Green TV
Solutions Durables - Votre Web TV participative. Earth Day Television.
World Environnement TV. Energie-renouvelable.tv la webtv des énergies renouvelables et du photovoltaique. GreenPod - la revue de presse du Développement Durable en vidéo. Energie2point0.com. Eco-mobilite.tv. EauZone.TV. Chaîne du développement durable - Vidéos et actualités - Alternative Channel.
Chris Jarvis, President of Realized Worth, talks to us about why it's important for companies, today, to change their approach when dealing with stakeholders.
Chris Jarvis thinks that companies need to rethink the term "stakeholders". He says that people who are "born connectors" are those that can successfully navigate social networks by transmitting information and connecting people in order to start an online dialogue. According to Jarvis, these individuals should be considered the true "influencers". Organized by NATIONAL Public Relations, the Tremblant Forum has become one of Canada's most important venues for the exchange of ideas on some of the biggest challenges and opportunities faced by companies, governments and members of civil society. Omega TV la web TV du mieux-vivre : Sante - bien etre - sexualite - famille - psychologie - management - societe - sens de la vie - vie pratique- Omega TV. Café Vert TV - Vidéos écolo en Suisse romande. Green tv. We have our own globally featured TV channel with Sony, and a prominent podcast with Apple's iTunes.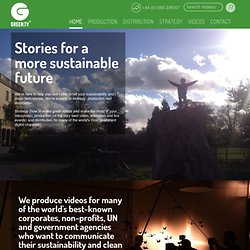 We also have a partner channel with Aol On and the Huffington Post. If that's not enough for you, our videos feature prominently on blinkx (who provide the video search engine for Microsoft, Lycos and Ask); the Times Education Supplement (the world's biggest online teaching resource) and their U.S. partner, Share My Lesson. This is what we call our core network offer, and it delivers 1/2 million video views a month. If you want to connect with specific target audiences, we can help you set up bespoke distribution networks. Terretv - La télé web des générations futures.
---