Renewable/Energy Industry
Smart Grid Blog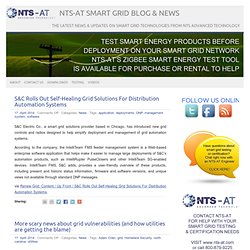 National Technical Systems Inc. (NTS), a leading provider of testing and engineering services, announced today that it has been selected by Pacific Gas & Electric (PG&E) as the first provider of validation testing of ZigBee Home Area Network (HAN) devices for use with PG&E SmartMeters™. NTS is now performing validation testing for PG&E at the NTS Advanced Technology division located in Culver City, CA. PG&E SmartMeters contain a radio for use in home and business area networking which, when activated by PG&E customers, can make electricity usage information available to compatible HAN devices.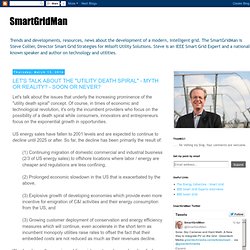 Blog | Smart Grid Man - Home
I work with the good folks at InterProse on articles and blog posts for IEEE Smart Grid and other industry websites and ezines. They recently asked me to express my views of what have been the most significant developments in the smart grid over the past year and what might be the most important new trends and developments next year and beyond. I thought that you might be interested in what I wrote for them. What significant smart grid developments and trends have transpired in the U.S. over the past year?
Smart Grid News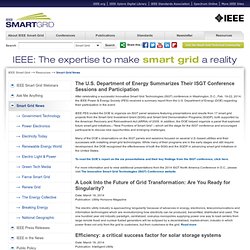 After celebrating a successful Innovative Smart Grid Technologies (ISGT) conference in Washington, D.C., Feb. 19-22, 2014, the IEEE Power & Energy Society (PES) received a summary report from the U.S. Department of Energy (DOE) regarding their participation in the event. IEEE PES invited the DOE to organize six ISGT panel sessions featuring presentations and results from 17 smart grid projects from the Smart Grid Investment Grant (SGIG) and Smart Grid Demonstration Programs (SGDP), both supported by the American Recovery and Reinvestment Act (ARRA) of 2009. In addition, the DOE helped organize a panel that explored future smart grid initiatives—"New Frontiers of Smart Grid"—which set the stage for the ISGT conference and encouraged participants to discuss new opportunities and emerging challenges. Many of the DOE's observations on the ISGT panels and sessions focused on several U.S.-based utilities and their successes with installing smart grid technologies.
SmartGrid.gov: Home