Parallel Programming
TBB Tutorial. This document gives a quick example of how to use Intel's Thread Building Blocks, by means of a simple example.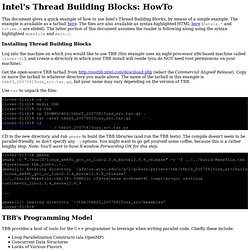 The example is available as a tarball here. The files are also available as syntax-highlighted HTML here (fatals.* and hrtime.h are elided). Various Artists. --------------------------------------------------------------------- VA - Ninja Cuts: Funkungfusion--------------------------------------------------------------------- Artist...............: Various ArtistsAlbum................: Ninja Cuts: FunkungfusionGenre................: Abstract, Future Jazz, BreaksSource...............: NMRYear.................: 1998Ripper...............: NMRCodec................: Free Lossless Audio Codec (FLAC)Version..............: reference libFLAC 1.2.0 20070715Quality..............: Lossless, (avg. compression: 85 %)Channels.............: Stereo / 44100 HZ / 16 BitTags.................: VorbisCommentInformation..........: flacbob Ripped by............: NMRPosted by............: Bobszi on 2009.07.15.News Server..........: xNews Group(s)........: alt.binaries.sounds.flac.full_albums.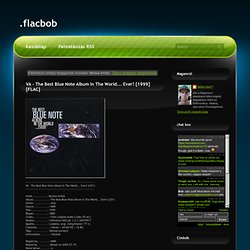 Introduction to Parallel Programming and MapReduce - Google Code University - Google Code. Templates. Overloading operators Classes, essentially, define new types to be used in C++ code.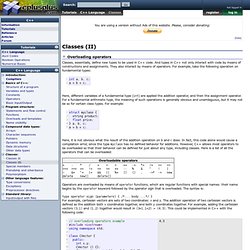 And types in C++ not only interact with code by means of constructions and assignments. They also interact by means of operators. Basic Input/Output. The example programs of the previous sections provided little interaction with the user, if any at all.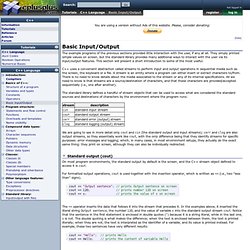 They simply printed simple values on screen, but the standard library provides many additional ways to interact with the user via its input/output features. This section will present a short introduction to some of the most useful. C++ uses a convenient abstraction called streams to perform input and output operations in sequential media such as the screen, the keyboard or a file. A stream. C++ Examples - A Simple Class. Using std namespace; what does it mean? C++ Language Tutorial. Search: Not logged in C++ Language These tutorials explain the C++ language from its basics up to the newest features introduced by C++11.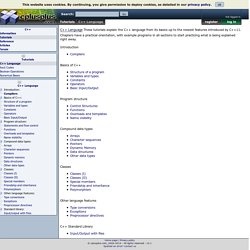 Chapters have a practical orientation, with example programs in all sections to start practicing what is being explained right away. Abstract Class vs Interface. Introduction: There are lost of discussion on the internet about the Interface vs Abstract class.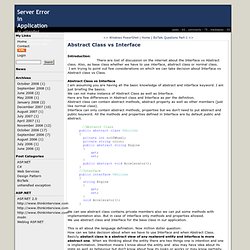 Also, as base class whether we have to use interface, abstract class or normal class. C++ Interface Classes - An Introduction. Class hierarchies that have run-time polymorphism as one of their prominent characteristics are a common design feature in C++ programs, and with good design, it should not be necessary for users of a class to be concerned with its implementation details.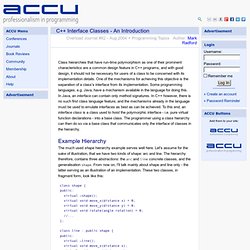 One of the mechanisms for achieving this objective is the separation of a class's interface from its implementation. Some programming languages, e.g. Java, have a mechanism available in the language for doing this. In Java, an interface can contain only method signatures. In C++ however, there is no such first class language feature, and the mechanisms already in the language must be used to emulate interfaces as best as can be achieved. C - Odd Pearson correlation coefficient results. Featured Algorithm: Intel Threading Building Blocks: parallel_reduce. C++ Cookbook O'Reilly By D. Ryan Stephens, Christopher Diggins, Jonathan Turkani.
D.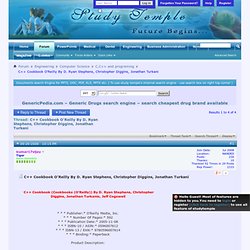 Ryan Stephens, Christopher Diggins, Jonathan Turkanis, Jeff Cogswell, "C++ Cookbook" O'Reilly Media | 2005-11-01 | ISBN: 0596007612 | 336 pages | CHM | 1,2 MB Despite its highly adaptable and flexible nature, C++ is also one of the more complex programming languages to learn. Once mastered, however, it can help you organize and process information with amazing efficiency and quickness. Electronic library. Download books free. Finding boooks. Software.intel.com/sites/products/documentation/hpc/tbb/tutorialv4.pdf.
---