Video
World's premier Online Video Editor | JayCut. Edit video in the cloud with the YouTube Video Editor. Video editing usually requires installing software packages and having a fair amount of technical savvy.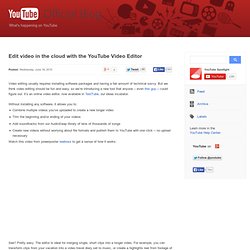 But we think video editing should be fun and easy, so we're introducing a new tool that anyone -- even this guy -- could figure out: it's an online video editor, now available in TestTube, our ideas incubator. Without installing any software, it allows you to: Combine multiple videos you've uploaded to create a new longer videoTrim the beginning and/or ending of your videos Add soundtracks from our AudioSwap library of tens of thousands of songsCreate new videos without worrying about file formats and publish them to YouTube with one click -- no upload necessary Watch this video from powerposter rewboss to get a sense of how it works: See?
Om du bara har en hammare så är alla problem en spik. En bara lite pretentiös text för #SSWC-Boken om skillnaden i "berättandet" olika medier och hur man kan använda den skillnaden till något bra.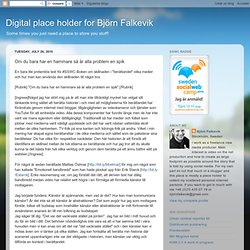 [Rubrik] "Om du bara har en hammare så är alla problem en spik" [/Rubrik] [Ingress]Något jag har stört mig på är att man inte tillräckligt mycket har vidgat sitt tänkande kring sättet att berätta historier i och med att möjligheterna för berättandet har förändrats genom internet med bloggar, tillgängligheten av videokameror och tjänster som YouTube för att embedda video. How to Embed YouTube Videos without the YouTube Logo. 10 Jun 2011 Learn how to embed YouTube videos in your web pages but after removing the YouTube logo from the Flash video player. couch mode print story The following page contains two videos that are embedded straight from YouTube.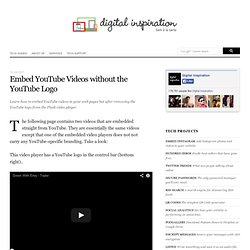 They are essentially the same videos except that one of the embedded video players does not not carry any YouTube-specific branding. Texta dina filmer. Så gjorde vi time-lapse-filmen på SSWC « Framtider.net. Före Sweden Social Web Camp blev jag ombedd att försöka komma på något intressant fotoexperiment vi kunde utföra under SSWC i helgen (den 13 till 15 augusti).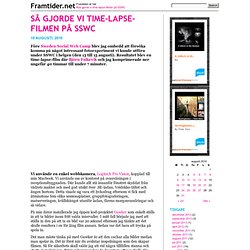 Resultatet blev en time-lapse-film där Björn Falkevik och jag komprimerade ner ungefär 40 timmar till under 7 minuter. Vi använde en enkel webbkamera, Logitech Pro Vision, kopplad till min Macbook. Vi använde oss av kontoret på ovanvåningen i receptionsbyggnaden. Där kunde allt stå innanför fönstret skyddat från vädrets makter och med god utsikt över .SE-ladan, Veidekke-tältet och ängen bortom. Detta visade sig vara ett lyckodrag eftersom vi fick med åtminstone fem olika sessionsplatser, gruppfotograferingen, matserveringen, kvällshänget utanför ladan, fårens morgonvandringar och så vidare. Lite om att använda Bambuser « Sundhults blogg. Av Christian, den 25 mars 2011 Jag var på Webcoast i helgen och gjorde ett par live-sändningar via Bambuser.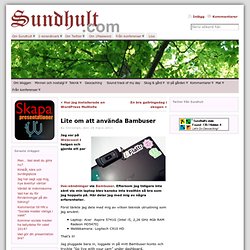 Eftersom jag tidigare inte sänt via min laptop blev kanske inte kvalitén så bra som jag hoppats på. How to Make a Killer Screencast for Your Blog. Photo by artm From Michael: Corey used to run Blog by Design, a site which made great screencast reviews of blog designs (Including Pro Blog Design!).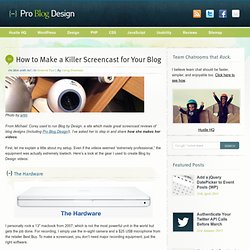 I've asked her to step in and share how she makes her videos. First, let me explain a little about my setup. Even if the videos seemed "extremely professional," the equipment was actually extremely lowtech. Gör instruktionsfilmer snabbt och enkelt. Jag har de senaste dagarna testat ett verktyg för att göra screencasts som heter Screencast-o-matic.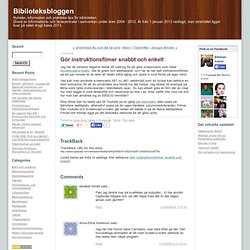 Det är gratis och webbaserat, och när du har sett instruktionsfilmen på ett par minuter är du redo att direkt sätta igång och spela in små filmer på egen hand. Vad kan man använda screencasts till? Jo, allt i webbmiljö som du tycker kan behöva en liten instruktion för att en användare ska förstå hur det funkar. Jag tänker till exempel på Mina sidor (eller motsvarande) i bibliotekets opac.
Du kan enkelt göra en film där du visar hur man loggar in med lånekortet och reserverar en bok t ex. The Basics Of Video Encoding | Tinkernut. Video Slideshow Maker with Music. Media Converter - the fastest free online audio and video converter. Screencast-O-Matic.
» How to Use This Free Screencasting Tool for E-Learning The Rapid eLearning Blog. You may have heard the news last week that Articulate launched a new screencasting tool called Screenr.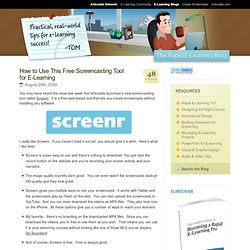 It is a free web-based tool that lets you create screencasts without installing any software. I really like Screenr. If you haven't tried it out yet, you should give it a whirl. 100% Free Video Converter | Gratis nedlasting. Webcasting Software - Wirecast 4 Overview - Telestream. The only cross-platform, all-in-one live streaming production software that enables capture, live production, and encoding of live streams for broadcast to multiple servers and platforms simultaneously.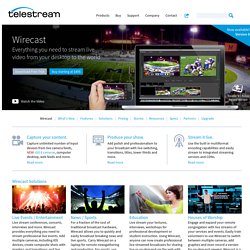 What's New? Wirecast 5 includes: x264 New UI HD Screen Capture Program feed out Web stream sources. 5 Free Tools for Creating a Screencast.
---