Mobil
Mobile Website Builder: Convert your Website and Blog to Mobile Easily!
Data Monday: What Are Mobile Users Looking At?
8 Best Android Apps for Photo Editing
Android cameras just keep getting better. They've got great movie-making capabilities, killer flashes, and the megapixels are on the rise with each new Android device that hits the market. But even the best photos — and the best camera phone photographers — sometimes need a bit of TLC. Whether your latest snap needs a little Lomo touch or you need to crop a stranger out of an otherwise perfect party pic, you could use a few good Android apps for taking and editing perfect photos.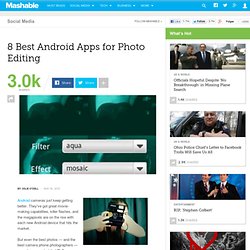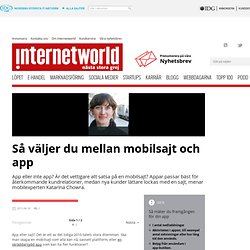 Fakta Så mäter du framgången för din app I antal nedladdningar Aktiviteten i appen, till exempel antal sidvisningar eller hur lång tid den används. Betyg från användare i app-butiken. Två nycklar till en lyckad app: Bygg in kundnytta. Bygg in distribution mellan användare.
Så väljer du mellan mobilsajt och app
Get ready to start paying for sandwiches, magazines and pints down the pub with nothing more than a swipe of your mobile phone as a payment revolution hits Britain's high streets. The idea is that your mobile phone will be embedded with a chip that contains your credit and debit card details. For low-value items, selling for no more than £15, all you will have to do is wave the phone in front of the shop's sales terminal.
Mobile phones bring the cashless society closer | Money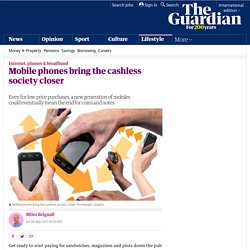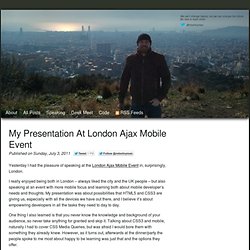 My presentation at London Ajax Mobile Event
Yesterday I had the pleasure of speaking at the London Ajax Mobile Event in, surprisingly, London. I really enjoyed being both in London – always liked the city and the UK people – but also speaking at an event with more mobile focus and learning both about mobile developer's needs and thoughts. My presentation was about possibilities that HTML5 and CSS3 are giving us, especially with all the devices we have out there, and I believe it's about empowering developers in all the tasks they need to day to day. One thing I also learned is that you never know the knowledge and background of your audience, so never take anything for granted and skip it.
I recently read that it's expected that by 2013 there will be more users viewing the Internet through a mobile device versus a desktop or laptop computer. That's pretty amazing, and it means that more so now than ever before, we as designers, should consider designing and developing for mobile users. It's become a necessity that will continue to grow. So lets take a look at some tips on designing for mobile devices.
Mobile Web Mastery: 25 Tips on Designing for Mobile Devices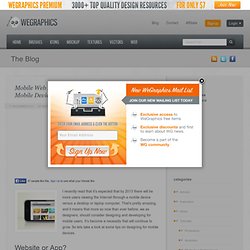 Public Draft: Version 1.0.4 Official URL: http://www.passani.it/gap/ Author & Editor: Luca Passani, luca dot passani at gmail dot com
Global Authoring Practices for the Mobile Web