Marknadsföring
10 Tips For Marketing With Social Media. Just like produce at your favorite supermarket or farmer's market, content and information introducing you and your expertise to members of your social media community, whether BizSugar or any other, must be tantalizing enough to make visitors want to return again and again and of sufficient quality to inspire trust on the part of potential clients and customers about the quality you offer.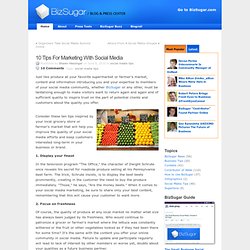 Consider these ten tips inspired by your local grocery store or farmer's market that will help you improve the quality of your social media efforts and keep customers interested long-term in your business or brand. 1. Display your finest In the television program "The Office," the character of Dwight Schrute once reveals his secret for roadside produce selling at his Pennsylvania beet farm. Varumärkets nya roll i de sociala medierna. Favorit i Repris 25 | Inlägget publicerades den 27 maj 2009 | 13 kommentarer Branding, alltså varumärkesutveckling, håller på att förändras i grunden.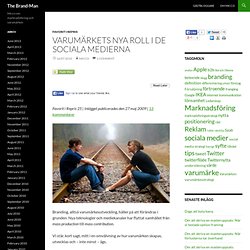 Nya teknologier och mediekanaler har flyttat samhället från mass production till mass contribution. Vi står, kort sagt, mitt i en omvälvning av hur varumärken skapas, utvecklas och – inte minst – ägs. På 1950-talet lanserade Rosser Reeves USP:n, Unique Selling Proposition. 26 Ways to Engage With Customers Using Video. Are you using video to connect with customers and prospects?
Videos will enhance client communication and collaboration, and help support and drive new business. In this post we'll cover 26 ways you can engage and interact with your customers by using video in several different forms. Being where citizens are is the key to engagement. Andrea Di Maio Managing VP 15 years at Gartner 28 years IT industry Andrea Di Maio is a managing vice president for public sector in Gartner Research, covering government and education.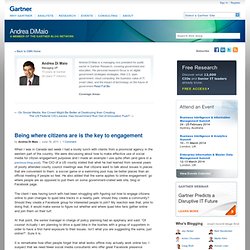 His personal research focus is on digital government strategies strategies, Web 2.0, open government, cloud computing, the business value of IT, smart cities, and the impact of technology on the future of government Read Full Bio Coverage Areas: by Andrea Di Maio | June 16, 2011 | 1 Comment. Social Media For PR: Why It's Vital You Embrace It. Recently, I presented at PubCon on the intersection of social media and PR.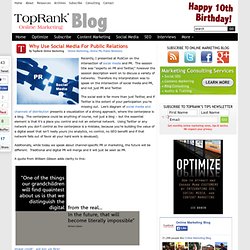 The session title was "experts on PR and Twitter," however the session description went on to discuss a variety of networks. Therefore my interpretation was to speak on the intersection of social media and PR, and not just PR and Twitter. Stop using QR codes! Stop using QR codes!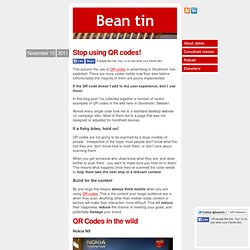 This autumn the use of QR codes in advertising in Stockholm has exploded. There are more codes visible now than ever before. Two thirds of consumers don't know what QR codes are: survey. QR codes may be popular among marketers, but the vast majority of consumers (64%) don't know what they are for.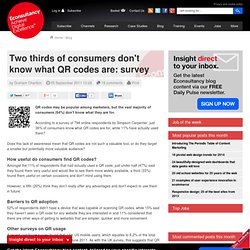 According to a survey of 794 online respondents by Simpson Carpenter, just 36% of consumers know what QR codes are for, while 11% have actually used them? Does this lack of awareness mean that QR codes are not such a valuable tool, or do they target a smaller but potentially more valuable audience? Top 14 Things Marketers Need to Know About QR Codes. I recently spoke at SES New York on best practices for mobile marketing with QR codes.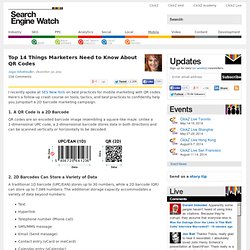 Here's a follow-up crash course on tools, tactics, and best practices to confidently help you jumpstart a 2D barcode marketing campaign. 1. A QR Code is a 2D Barcode QR codes are an encoded barcode image resembling a square-like maze. The real reason consumers are creeped out by online ads. Direct response marketers have been using various statistical models for decades to determine how to predict human behavior.
They've built proven models that can help a marketer reach a highly targeted audience with a high degree of reliability and show that audience a message that has a higher probability of success than a random untargeted message. The easiest way to see this at work is to buy a house. Two years ago, I bought a house (my timing was impeccable). Debunking 5 Myths About Content Marketing. The top reason why many organizations and people are holding back from building effective social presences is confusion about what constitutes good content.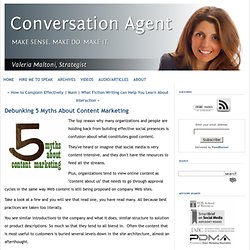 They've heard or imagine that social media is very content intensive, and they don't have the resources to feed all the streams. Plus, organizations tend to view online content as "content about us" that needs to go through approval cycles in the same way Web content is still being proposed on company Web sites. Take a look at a few and you will see that read one, you have read many. Headstream Social Brands 100 Report. How to Find Your Most Important Fans.
Word of mouth is an incredibly powerful marketing tool, but how do you work out which customers are most important in spreading your message? Services like PeerIndex or Klout help you find experts and influencers in particular communities, but can't measure what people have actually done for your business. The new Vipli.st service from Awe.sm aims to fill this gap by uncovering the fans who drive the most sharing.
Launched at the Strata Startup Showcase last week, the site visualizes how Plancast events are shared across social networks like Twitter and Facebook. It draws a tree showing the first person to create a plan, with links below to everyone who added themselves as attendees after clicking on that link, downwards through the entire history of the conversation around the event.
---