App
Make An iPhone, Android App Without Knowing A Line Of Code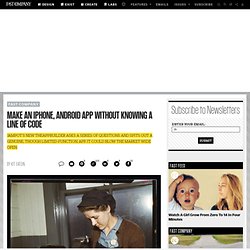 With JamPot's The AppBuilder , you can build a genuine iPhone or Android app in mere minutes for free--according to the company's own website. The young company, savvy to the ever-shifting smartphone market, says it will soon support Windows Phone 7 too, meaning it'll address the market that RIM seems to be losing its grip on very fast according to new surveys on smartphone use. The idea behind TheAppBuilder, JamPot's VP of Sales Matthew David explained to Fast Company , is simple.
7 Things You Should Know About Mobile App Development
Augmented reality app links offline and online without QR codes
Is the end nigh for the QR code? We've seen it put to good use in countless innovative projects over the years, but just recently we're seeing a drift towards technology that can produce similar results without the codes. Capturio is a good example of that shift, and now Blippar is creating augmented reality effects from printed images without any need for activation from a QR code.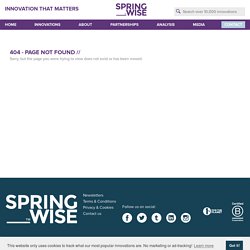 Everywhere you turn these days people are talking about mobile apps . Apps for this, apps for that. The statistics too, have been kind of staggering. One recent study by Flurry, showed that consumers spent 81 minutes per day using mobile apps, compared to 74 minutes of web surfing.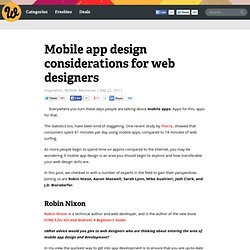 Mobile app design considerations for web designers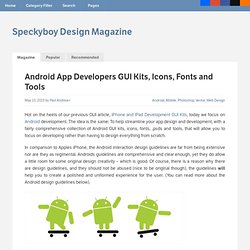 Hot on the heels of our previous GUI article, iPhone and iPad Development GUI Kits , today we focus on Android development. The idea is the same: To help streamline your app design and development, with a fairly comprehensive collection of Android GUI kits, icons, fonts, .psds and tools, that will allow you to focus on developing rather than having to design everything from scratch. In comparison to Apples iPhone, the Android interaction design guidelines are far from being extensive nor are they as regimental. Androids guidelines are comprehensive and clear enough, yet they do allow a little room for some original design creativity – which is good. Of course, there is a reason why there are design guidelines, and they should not be abused (nice to be original though), the guidelines will help you to create a polished and uniformed experience for the user.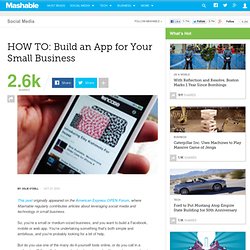 This post originally appeared on the American Express OPEN Forum , where Mashable regularly contributes articles about leveraging social media and technology in small business. So, you're a small or medium-sized business, and you want to build a Facebook, mobile or web app. You're undertaking something that's both simple and ambitious, and you're probably looking for a bit of help. But do you use one of the many do-it-yourself tools online, or do you call in a professional? If you find you need a developer to work with you, do you reach out to a freelancer or do you call an agency?
HOW TO: Build an App for Your Small Business
Android är ett fritt och öppet operativsystem för mobiltelefoner. Det är baserat på Linux och utvecklas av Google tillsammans med Open Handset Alliance. Fördelarna jämfört med andra operativsystem för telefoner är att mobiltillverkare kan anpassa Android utan att betala licensavgifter. Dessutom är utvecklarna inte låsta till en viss mobiltillverkare, utan kan nå ut till fler användare med sina applikationer. 1 Vi bygger nyhetsläsare Vår utgångspunkt är en applikation från nyhetssajten IDG.se.
Bygg din egen Android-app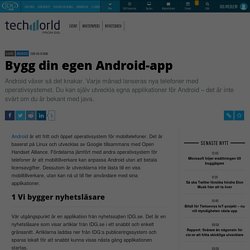 App Advice