Beer
Homebrewing. Northern Brewer Home Brewing and Winemaking. The Mash Tun, The Mash Tun, part 1 This article is a description of the Mash tun I designed for my brewery.
I hope to write a series of articles on my brewery and its construction divided by the various stages of the brewery and I figured that Mash tun is as good a place as any to start. Before I started designing anything, I first went out and did research on the Internet and various book and magazines to see what others have developed. I also gleaned knowledge from talking with homebrewers such as the members of my homebrew club The Draught Board and various email correspondences through the Usenet and the Homebrew Digest mail list.
I write this article in the spirit of those who have shared there brewery ideas for the good of everyone such as myself. Mash tun « Hoppy Brewing. How To Convert a Retired Sanke (1/2 bbl) 15 Gallon Keg Into A Boil Kettle So my buddy Mike wanted a boil kettle, and since New Belgium practically gives away old kegs, I hooked him up.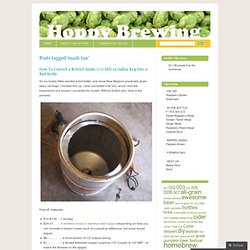 I also converted it for him, since I had the experience of a couple I converted for myself. Without further ado, here is the process: First off, materials: $10-$100….1 old keg$24-37……..1 weldless brass or stainless steel spigot (depending on how you roll, honestly it doesn't make much of a practical difference, but some would argue)$6…………….a short section of 1/2″ copper tubing$1…………….a female threaded copper coupling (1/2″ Copper to 1/2″ MIP – to match the threads on the spigot)$1…………….a 90 degree elbow (1/2″ copper)
Brew Your Own: The How-To Homebrew Beer Magazine - home page. HomeBrewTalk.com - Beer, Wine, Mead, & Cider Brewing Discussion. Mash Tun.
---