Tweeted Links
Ain't life grand?!?! You have got to read this: 12 days of #Christmas. Don't just do something, stand there. Hurry up Daddy or I'll fall asleep! My Bibliofile. Palin On 2012 Presidential Bid: I Could Beat Obama. Amazon. Layer 8: Going beyond enterprise architecture 101 | Network World. Bringing the next generation of enterprise architects up to speed won't be an easy task.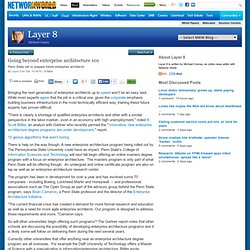 While most experts agree that the job is a critical one, given the corporate emphasis building business infrastructure in the most technically efficient way, training these future experts has proven difficult. "There is clearly a shortage of qualified enterprise architects and other with a similar perspective in the labor market...even in an economy with high unemployment," noted R.
Scott Bittler, an analyst with Gartner who recently penned the " Innovative, new enterprise architecture degree programs are under development," report. 15 genius algorithms that aren't boring. Replica Batmobile. The most famous car on the planet.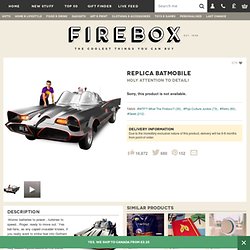 Apart from Herbie. 'Atomic batteries to power…turbines to speed…Roger, ready to move out.' Yes bat-fans, as any caped crusader knows, if you really want to strike fear into Gotham City's master criminals you need a Batmobile. But not just any Batmobile, a fully-loaded replica based on the iconic 1966 mean machine driven by Adam West in the classic TV series. KAPOW! 20 Things I Learned About Browsers and the Web. Illustration Christoph Niemann Writers/Editors.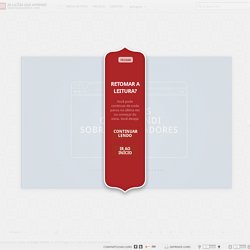 Yoda - Little Green Badass: Pics, Videos, Links, News. Secure Online Backup and Archiving for Gmail, Facebook, Twitter, and Wordpress | Backupify. Grant Charles Adams shared from a Personal Document. Up to 90% discount on restaurants, spas, wellness, fitness - groupon.co.uk.
The official petition for a fifth Tate Gallery to be built in Wales. Tate Wales / Cymru. Here you can pledge your support for the fifth Tate Gallery to be built in Wales, a Tate Cymru.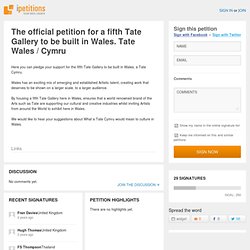 Wales has an exciting mix of emerging and established Artistic talent, creating work that deserves to be shown on a larger scale, to a larger audience. By housing a fifth Tate Gallery here in Wales, ensures that a world renowned brand of the Arts such as Tate are supporting our cultural and creative industries whilst inviting Artists from around the World to exhibit here in Wales. We would like to hear your suggestions about What a Tate Cymru would mean to culture in Wales. Links. Photo : yfrog.com/9gqqp0j - Shared by grantcadams. £39 instead of £215 for a Lifestyle Photography Experience & Portrait to keep. Happiest Britons work for themselves. Self-employed Britons are the happiest workers in the country, research finds.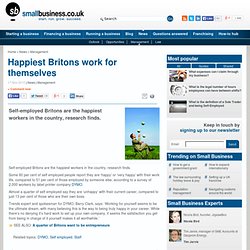 Some 60 per cent of self employed people report they are 'happy' or 'very happy' with their work life, compared to 51 per cent of those employed by someone else, according to a survey of 2,000 workers by label printer company DYMO. Almost a quarter of self employed say they are 'unhappy' with their current career, compared to just 13 per cent of those who are their own boss. Trends expert and spokesman for DYMO, Barry Clark, says: 'Working for yourself seems to be the ultimate dream, with many believing this is the way to being truly happy in your career.
While there's no denying it's hard work to set up your own company, it seems the satisfaction you get from being in charge of it yourself makes it all worthwhile.' See also: A quarter of Britons want to be entrepreneurs. A Personal Christmas Message from Soldiers Overseas...Please Read and pass on. Holiday Lettings » holiday rentals, villas, apartments, cottages, self catering.
Grant Charles Adams shared from The Success Principles(TM) Fog in Cardiff Bay today - liassic's posterous. Facebook email: Is this actually an enterprise play? So about this Facebook event on Monday...ZDNet's Sam Diaz will be there and will let us know just how much truth there is to the rumors of a new email service being rolled out to Facebook users.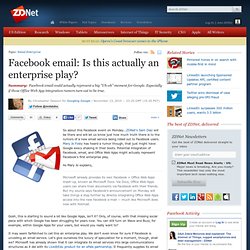 Mary Jo Foley has heard a rumor though, that just might have Google execs shaking in their boots. Potential integration of Facebook, email, and Office Web Apps might actually represent Facebook's first enterprise play. As Mary Jo explains, Microsoft already provides its own Facebook + Office Web Apps mash-up, known as Microsoft Docs. Big Ideas Wales looks for young entrepreneurs - Business News - Business. A CAMPAIGN to encourage more young people to become entrepreneurs is being launched today.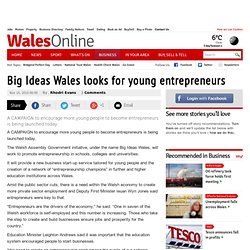 The Welsh Assembly Government initiative, under the name Big Ideas Wales, will work to promote entrepreneurship in schools, colleges and universities. It will provide a new business start-up service tailored for young people and the creation of a network of "entrepreneurship champions" in further and higher education institutions across Wales. Amid the public sector cuts, there is a need within the Welsh economy to create more private sector employment and Deputy First Minister Ieuan Wyn Jones said entrepreneurs were key to that.
"Entrepreneurs are the drivers of the economy," he said. "One in seven of the Welsh workforce is self-employed and this number is increasing.
---