Newssites
Al Jazeera - objective and balanced global news coverage and ana
Technology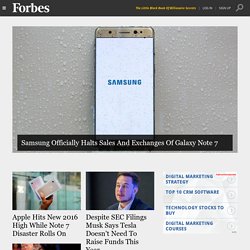 Anyone who has had time to read the proxy filing and related documents that Dell sent to the Securities and Exchange Commission (SEC) last Friday — which is to say, no one, at least in its multi-hundred-page form, including the PREM14A, DEFA14A, SC 13E3, and SC 13E3/A — can see detailed there, among many other things, the sad story of the decline in the PC business. Given this sorry backdrop to the biggest proposed tech deal since before the recession, there is really only one good outcome: Michael[...] read » See photos Our current cover. A gallery of the 60 is below. One of my many office habits is to stop and stare at a hallway wall leading to an elegant marble staircase. There I can scan 60 framed FORBES magazine covers dating back to October 2010. Thirty are photos of entrepreneurs of [...] read » When envisioning and establishing my business, I focused on both short- and long-term goals.
The New York Times on the Web
C'est Need To Know!
News and Analysis | Industries
Google News U.K.
Telegraph newspaper online
Times Online - Home
CNET.com - News
washingtonpost.com - News Front
Independent
THE REGISTER
ZDNet UK News
Guardian Unlimited
Slashdot: News for nerds, stuff that matters
FuckedCompany.com - Official lubricant of the new economy