Creating Forums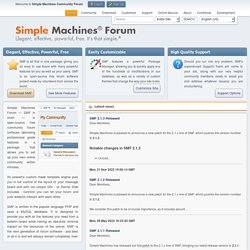 Simple Machines Forum — SMF in short — is a free, professional grade software package that allows you to set up your own online community within minutes. Its powerful custom made template engine puts you in full control of the layout of your message board and with our unique SSI - or Server Side Includes - function you can let your forum and your website interact with each other. SMF is written in the popular language PHP and uses a MySQL database.
Invision Power - Community Forum, Blog, Gallery, CMS, and more -
Unrivaled discussion capabilities As leading forum software, the discussion tools included in IP.Board are second to none Organization of content is key IP.Board supports categories, forums and sub-forums in whatever hierarchy makes sense for your community. Each category and forum has individual permissions and settings, allowing you to precisely determine who can access what, and what they can do with it. There's also Redirect Forums, which appear in your forum listing as normal, but link to a URL you define - great for directing users to documentation or other important pages.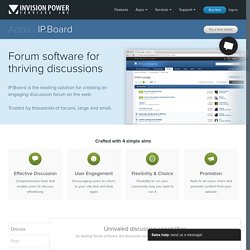 Purchase vBulletin, the most powerful forum software available.
A Revolutionary, New Software Program Anyone Can Use — In ANY Market — To Drive Floods Of Traffic... To Create An Army Of Back-links... To Capture Tons Of Subscribers... To Recruit Loads Of Affiliates... And To Produce Viral Storms Of Buzz & Attention Rapidly All Over The Net!
Viral Marketing For Your WordPress Blog: Contest Burner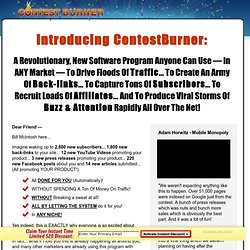 Membership Management Software | Membership Software | YourMembe