Général/General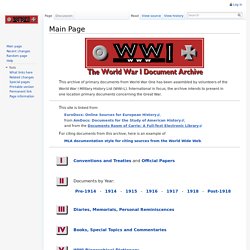 From World War I Document Archive This archive of primary documents from World War One has been assembled by volunteers of the World War I Military History List (WWI-L). International in focus, the archive intends to present in one location primary documents concerning the Great War. This site is linked from EuroDocs: Online Sources for European History, from AmDocs: Documents for the Study of American History, and from the Documents Room of Carrie: A Full-Text Electronic Library For citing documents from this archive, here is an example of MLA documentation style for citing sources from the World Wide Web. Conventions and Treaties and Official Papers Documents by Year:
Read a single page summary of the origins of the First World War - the tangled secret alliances, the royal feuds, the personalities and the seemingly inevitable series of events in June and July 1914 which culminated in the oubreak of hostilities spanning four years. Assassin's Target: Archduke Franz Ferdinand Browse a collection of some 200 contemporary photographs of the monarchs, crown princes and other assorted royalty who ruled Europe during World War One, including Kaiser Wilhelm of Germany, British King George V and Emperor Franz Josef of Austria-Hungary. Biographical Study - Kaiser Wilhelm II Read a collection of telegrams exchanged between German Kaiser Wilhelm II and Russian Tsar Nicholas II in the four days leading up to war, from 29 July to 1 August 1914, in which each seeks to persuade the other to cede their diplomatic position. The Doomed Tsar - Nicholas II of Russia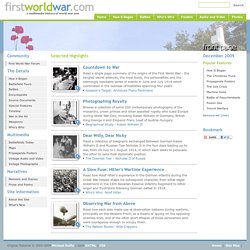 The Heritage of the Great War / First World War 1914-1918. Graphic color photos, pictures and music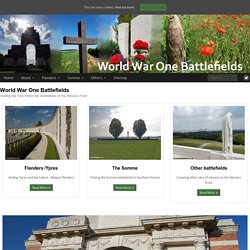 World War One Battlefields : Home Page
Passchendaele battlefield, 1917 Image from Library and Archives Canada. What's New: 15th March 2014 We are rapidly approaching the centenary of the start of World War One, and public interest in the Great War seems to be increasing by the day.