Antiquité/Antiquity
Get News and Updates from AncientGreece.com Click on any of the above icons to learn more about the topic google-site-verification: google64c94f5be7a09702.html Question & Answers, discusstopics and ideas.Meet Students and Professors. Free Essay Research Library.Browse Ancient Greece Essays. Explore photos of Sculptures, Paintings, Artifacts and more.+360 Degree Photos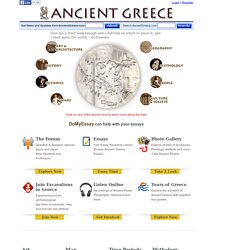 Bienvenue sur Olympos! Olympos est un site sur la civilisation de la Grèce antique. Les thèmes abordés sont divers et ouverts! Ce site est en fait construit à partir de mes exposés depuis le collège jusqu'au lycée (TPE...). Certaines informations nécessitent d'être complétées ou rajoutées. Bonne visite!
OLYMPOS, la Grèce antique -- Bienvenue
The Roman Empire: In The First Century
Rome Reborn is an international initiative whose goal is the creation of 3D digital models illustrating the urban development of ancient Rome from the first settlement in the late Bronze Age (ca. 1000 B.C.) to the depopulation of the city in the early Middle Ages (ca. A.D. 550). With the advice of an international Scientific Advisory Committee, the leaders of the project decided that A.D. 320 was the best moment in time to begin the work of modeling. At that time, Rome had reached the peak of its population, and major Christian churches were just beginning to be built. After this date, few new civic buildings were built.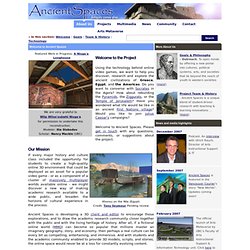 Welcome to the Project Using the technology behind online video games, we want to help you discover, research and explore the ancient civilizations of Greece, Egypt, and the Americas. Do you want to converse with Socrates in the Agora? How about rebuilding the Pyramids, the Ziggurats, or the Temple of Jerusalem?
Ancient Spaces: Antiquity Comes Alive