Recipes
12 Runners Superfoods: Energy - Nutrition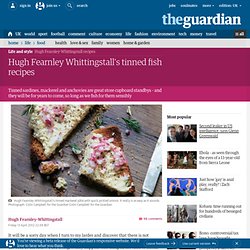 Tinned fish recipes | Hugh Fearnley Whittingstall | Life and style
It will be a sorry day when I turn to my larder and discover that there is not a single tin of fish to be found therein. But I guess if we continue to empty the seas at the rate we are doing, it may happen. The thing is, the kind of small, oily fish that fit so obligingly in tins and jars are the very species that, if managed properly and fished responsibly, could continue to feed us sustainably well into the future. If however, we continue to vacuum them up by the millions of tonnes, and process more than half of them into animal feed and fertilisers, then they won't be around for long.
(the best) VEGAN BERRY MUFFINS
Last night I taught a healthy living class. And like always, as the guest were arriving, I was behind on everything… I had friends making Peanut Butter Pong Balls (made with almond butter instead), made my dad run to McDonalds to get some 'samples' (of no-no's), and I was busy making sure things were set and ready to go…Oh and repeating in my mind the things I was going to say. I decided to do a display table of ingredients I love that I think everybody should include in their daily eating lifestyle. Each had a little note card with info about the ingredient.
Healthy Living Class, Green Drinks, Sweet Eats, and Salads!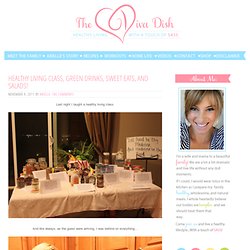 Something clean for that sweet tooth. crunchy, creamy, nutty and fudgy ...um YUM! Ingredients 6-10 dates, pitted 3/4 cup raw peanuts, toasted ( you can use any nut of your choice) 1/2 cups quinoa crispy puffs (found in health food store) 1/2 cup plus 10mls brown rice syrup 3/4 cup dark chocolate chips 20ml milk of your choice
Chocolate Quinoa "Candy Bars" - The Kitchen Table - The Eat-Clean Diet®
Give lentils a Spanish twist with this hearty one-pot dish Difficulty and servings Serves 2
Lentils with chorizo & red wine recipe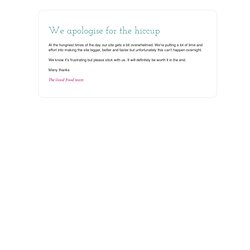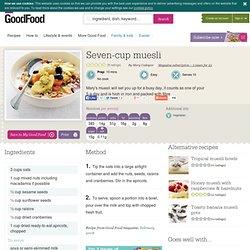 Mary's muesli will set you up for a busy day, it counts as one of your 5-a-day and is high in iron and packed with fibre Difficulty and servings Serves 10 Preparation and cooking times Prep 10 mins
Seven-cup muesli recipe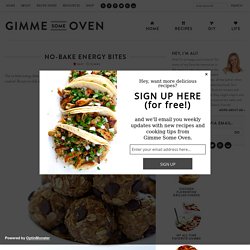 Last month I hopped out to Breckenridge for a weekend to go skiing and catch up with my good friend Courtney.
Spicy falafels recipe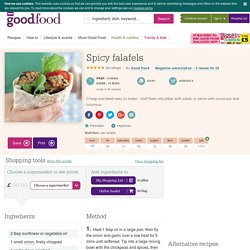 Cheap and dead easy to make - stuff them into pittas with salad, or serve with couscous and houmous Difficulty and servings Serves 6 Easily doubled
MILLIONAIRES SHORTBREAD
This high fibre dish counts as 3 of your 5-a-day, and it's delicious too Difficulty and servings Serves 4 Preparation and cooking times Prep 5 mins Cook 15 mins
Spicy vegetable & quinoa laksa recipe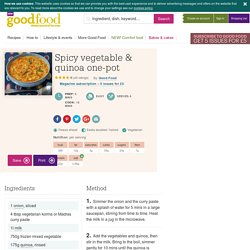 This healthy soup is full of fresh spring flavours and makes a sophisticated vegetarian meal for guests Difficulty and servings Serves 4 Preparation and cooking times Prep 15 mins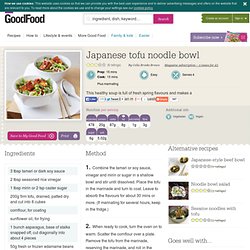 Japanese tofu noodle bowl recipe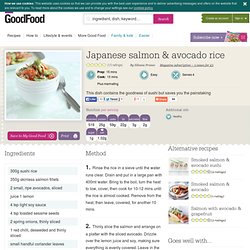 This dish contains the goodness of sushi but saves you the painstaking rolling and shaping Difficulty and servings Serves 4
Japanese salmon & avocado rice recipe
Cucina 49
Guest Bloggers Emma and Henry make homemade Oreos - Sweet Potato Chronicles
I got to know Emma Reddington through her amazing site The Marion House Book . The first time I checked it out (on the advice of the always spot on Vitamin Daily girls) I realized that an hour had disappeared while I devoured all the envy-making house tours, design features and food posts. Don't say I didn't warn you!
A 1,500-calorie diet plan designed to help you stay trim and satisfied By Keri Glassman, R.D. 1 of 6
1500-Calorie Diet Plan
Four-Cheese Pasta With Cauliflower: Recipes
Recently, I needed a vegetarian centerpiece for an Italian-themed meal (my own birthday dinner, as a matter of fact!). Beans might not be the first thing that comes to your mind, but these cannellini beans were special enough to impress all the meat lovers at the table. It all starts with the beans you use. I'm sure regular old store-bought cannellini beans would be fine here, but Rancho Gordo's amazing Runner Cannellini beans took this dish to a higher level of deliciousness. They're huge, with a mild, earthy flavor and soft but substantial texture.
Cannellini Bean Stew with Fresh Herbs | What Would Cathy Eat?
Soups & Stews
It has been a very rainy day here in New Hampshire! I don't think the sun peaked out all day. After work I just wasn't in the mood to run and the husband got home from work early so I decided to skip the workout today to spend some time with him. I planned to go grocery shopping too but that didn't happen either! A very productive day, I must say.
Hearty Lentil Soup « Will Run for Food
Create this colourful one-pan omelette using pumpkin or butternut squash Difficulty and servings Serves 4 Preparation and cooking times
Pumpkin, halloumi & chilli omelette recipe
Lentil And Chicken Soup - 3 pts