Accompagnement
‎www.coach-abondance.com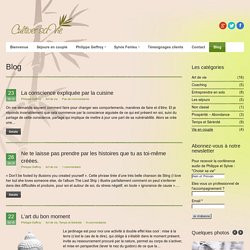 Notre blog : lisez, dialoguez et partagez nos articles et vidéos
« Faites vous même votre propre malheur » est un excellent livre (de 1990!)
U n immense merci à Stephen Madigan pour la générosité avec laquelle il met ses articles à disposition sur son site, et la gentillesse avec laquelle il m'a encouragée à les traduire pour en faire profiter également un public francophone. Dès que j'ai découvert- grâce à Pierre Blanc Sahnoun- des écrits de Stephen Madigan, ils ont eu une influence immédiate et directe sur ma pratique de coach. A partir d'une posture subversive qui lui permet d'enquêter sur des problèmes universellement partagés, les lignes de questionnement aussi limpides que puissantes qu'il propose font levier à un travail de déconstruction en alliance avec le client.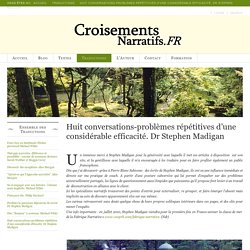 Huit conversations-problèmes répétitives d'une considérable efficacité. Dr Stephen Madigan
by Tony Schwartz | 8:53 AM March 14, 2012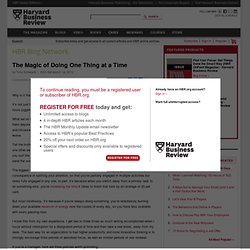 Coaching d'équipe alain cardon ebook
Science has managed to reveal some crazy things that fly in the face of almost every commonly accepted management practice. Here's the latest: Rewards for top performers lead them to worse performance.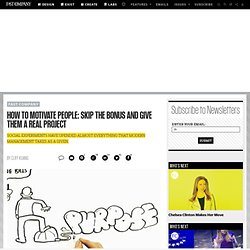 Atelier du coach
Sculpter sa vie par Béatrice Giraudeau
Coach Émoi...
"The surprising truth about what motivates us" ou "La surprenante vérité sur ce qui nos motive"...
"Les Quatre Accords Toltèque" de Don Miguel RUIZ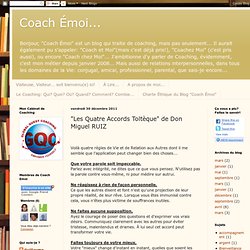 Voilà quatre règles de Vie et de Relation aux Autres dont il me semble que l'application peut changer bien des choses...
Global Quest Coaching : Cabinet Spécialisé en Accompagnement / Coaching de Dirigeants, Cadres, et Managers.
Le coaching c'est pour qui ?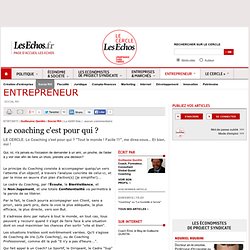 Qui, ici, n'a jamais eu l'occasion de demander à un ami, un proche, de l'aider à y voir clair afin de faire un choix, prendre une décision? Le principe du Coaching consiste à accompagner quelqu'un vers l'atteinte d'un objectif, à travers l'analyse concrète de celui-ci, et par la mise en œuvre d'un plan d'action(s) (je simplifie!)... Le cadre du Coaching, par l' Écoute , la BienVeillance , et le Non-Jugement , et une totale Confidentialité va permettre à la parole de se libérer. Par le fait, le Coach pourra accompagner son Client, sans a priori, sans parti pris, dans la voie la plus adéquate, la plus efficace, la plus directe, vers son But. Il s'adresse donc par nature à tout le monde, en tout cas, tous peuvent y recourir quand il s'agit de faire face à une situation dont on veut maximiser les chances d'en sortir "vite et bien". Les situations traitées sont extrêmement variées.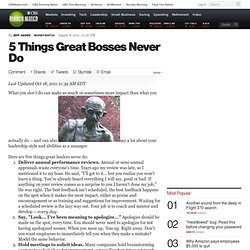 What you don't do can make as much or sometimes more impact than what you actually do -- and can also say a lot about your leadership style and abilities as a manager.
5 Things Great Bosses Never Do | BNET
We've all had bosses do things we didn't like, appreciate, or respect.
10 Things Managers Should Never Do | BNET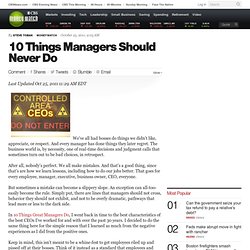 4 Secrets Happy Entrepreneurs Know | BNET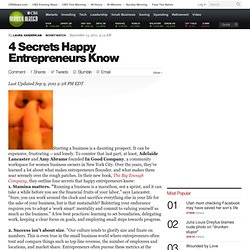 Starting a business is a daunting prospect.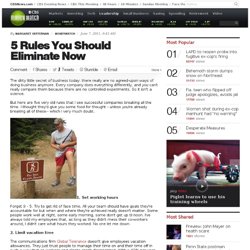 5 Rules You Should Eliminate Now | BNET
The dirty little secret of business today: there really are no agreed-upon ways of doing business anymore.