Thin kings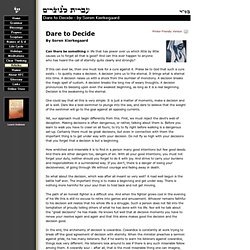 If this can ever be, then one must look for a cure against it.
Dare to Decide! by Soren Kierkegaard
Got Doubt?
21st Mar 2013 And a good time was had by all. Bye bye, tumblrees.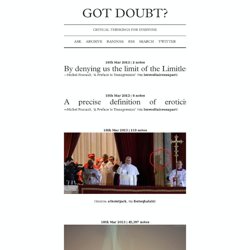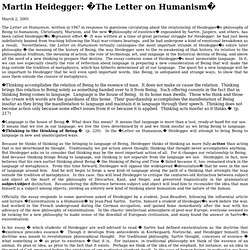 Martin Heidegger
March 2, 2005
Knowledge vs. Opinion: How Cultural Elites Shape Public Percepti
Don't fall in love with your neighborhood barista | Capitol Hill
Great customer service or coffee shop love? I have this friend, let's call him John.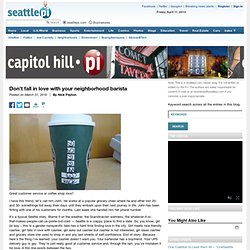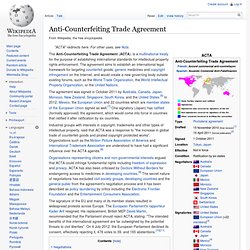 The Anti-Counterfeiting Trade Agreement ( ACTA ), is a multinational treaty for the purpose of establishing international standards for intellectual property rights enforcement. The agreement aims to establish an international legal framework for targeting counterfeit goods, generic medicines and copyright infringement on the Internet, and would create a new governing body outside existing forums, such as the World Trade Organization , the World Intellectual Property Organization , or the United Nations . The agreement was signed in October 2011 by Australia , Canada , Japan , Morocco , New Zealand , Singapore , South Korea , and the United States . [ 6 ] In 2012, Mexico , the European Union and 22 countries which are member states of the European Union signed as well. [ 7 ] One signatory (Japan) has ratified (formally approved) the agreement, which would come into force in countries that ratified it after ratification by six countries.
|| < X | Got Doubt?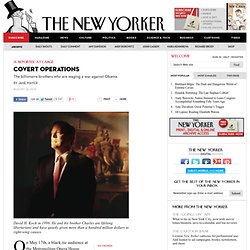 On May 17th, a black-tie audience at the Metropolitan Opera House applauded as a tall, jovial-looking billionaire took the stage. It was the seventieth annual spring gala of American Ballet Theatre, and David H. Koch was being celebrated for his generosity as a member of the board of trustees; he had recently donated $2.5 million toward the company's upcoming season, and had given many millions before that.
Dan's Geometrical Curiosities - Table of contents
Noam Chomsky Attacks American "Libertarians"
Entelechy and will-to-power | Got Doubt?
Doubt Quotes
All the Companies Supporting SOPA, the Awful Internet Censorship Law and How to Contact Them
Got Doubt? | We view the world through the lens of doubt, the root of critical thinking.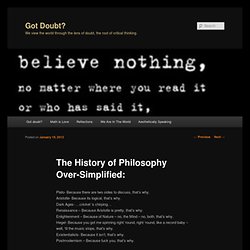 The History of Philosophy Over-Simplified: | Got Doubt?
Plato- Because there are two sides to discuss, that's why.