Etat de l'art de la recherche (printemps 2010)
Name That Graph or the need to provide a model and syntax extension to specify the provenance of RDF graphs. Fabien Gandon (Twitter @fabien_gandon ) and Olivier Corby , INRIA , W3C Member
Name That Graph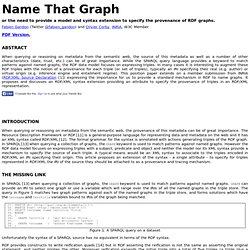 Exploitation du RDF et du LOD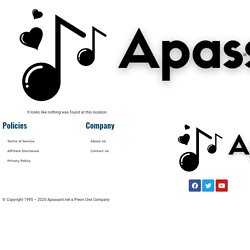 There have been lots of discussion recently regarding dynamics and notification in the Semantic Web realm, including various vocabularies for describing changes and approaches for notifying them – as Leigh recently blogged about it . Last month, while visiting Kno.e.sis , Pablo an I worked on an approach using pubsubhubbub for RDF changes notification, that I'm happy to announce today. The result is sparqlPuSH , an interface that can be plugged on any SPARQL endpoint and that broadcast notifications to clients interested in what's happening in the store using the pubsubhubbub protocol.
SPARQL + pubsubhubbub = sparqlPuSH | Alexandre Passant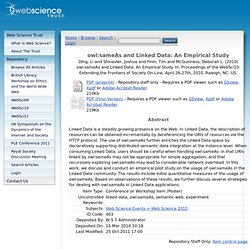 Ding, Li and Shinavier, Joshua and Finin, Tim and McGuinness, Deborah L. (2010) owl:sameAs and Linked Data: An Empirical Study.
An Empirical Study of owl:sameAs Use in Linked Data - Web Scienc
Interoperate with whom? Formality, Archaeology and the Semantic
Isaksen, Leif and Martinez, Kirk and Gibbins, Nicholas and Earl, Graeme and Keay, Simon (2010) Interoperate with whom? Formality, Archaeology and the Semantic Web.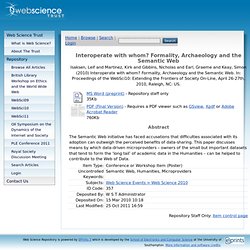 http://events.linkeddata.org/ldow2010/papers/ldow2010_paper03.pd
Raleigh: Technical Papers
Raleigh: Tutorials
Raleigh: Demonstrations
Session 1: Wednesday, 1:00-3:30 PM and 4:00–5:30 PM (Room 301AB)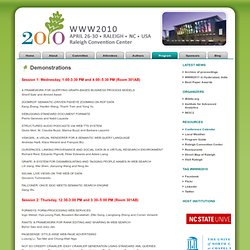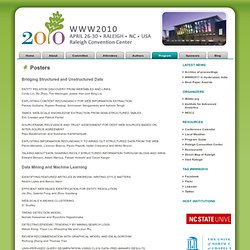 Raleigh: Posters
Bridging Structured and Unstructured Data
Number of items: 32 . WS10 Paper Session 1: Web & Society
Browse by Events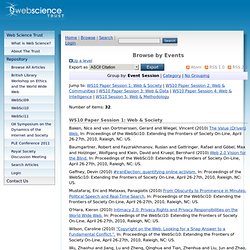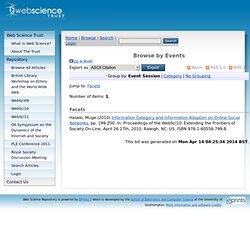 Number of items: 75 . Akman, Duygu Saide and Uskudarli, Suzan (2010) Analyzing Tags in Twitter Community. In: Proceedings of the WebSci10: Extending the Frontiers of Society On-Line, April 26-27th, 2010, Raleigh, NC: US.
Browse by Events