Climbing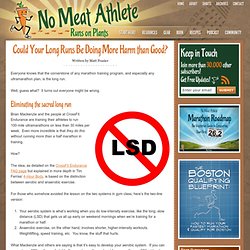 Everyone knows that the cornerstone of any marathon training program, and especially any ultramarathon plan, is the long run. Well, guess what? It turns out everyone might be wrong. Eliminating the sacred long run Brian Mackenzie and the people at CrossFit Endurance are training their athletes to run 100-mile ultramarathons on less than 30 miles per week. Even more incredible is that they do this without running more than a half marathon in training.
Could Your Long Runs Be Doing More Harm than Good? | No Meat Athlete
Some people get excited by a football game or a new pair of shoes, but for me it is finding fresh cake yeast at my local grocery store. I haven't played with fresh yeast since I was in culinary school many years ago. I certainly hadn't tested the recipes in our books with it, because I assumed it was too difficult to find. There it was sitting next to the cream cheese in the dairy section of the store. I admit I yelped and did a little dance right there in the aisle.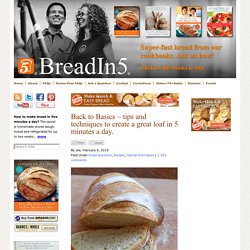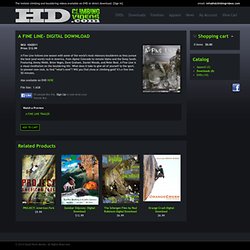 A Fine Line follows one season with some of the world's most visionary boulderers as they pursue the best (and worst) rock in America, from Alpine Colorado to remote Idaho and the Deep South. Featuring Jimmy Webb, Brion Voges, Dave Graham, Daniel Woods, and Peter Beal, A Fine Line is a visual meditation on the bouldering life. What does it take to give all of yourself to the sport, to pioneer new rock, to find "what's next"? Will you find choss or climbing gold? It's a fine line. 50 minutes. Also available on DVD HERE
A FINE LINE- DIGITAL DOWNLOAD | HD Climbing Videos
The One Workout Every Climber Should Do - Rock Climbing &Bouldering Articles - StumbleUpon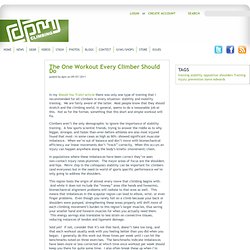 posted by dpm on 09/07/2011 In my Should You Train? article there was only one type of training that I recommended for all climbers in every situation: stability and mobility training. We are fairly aware of the latter. Most people know that they should stretch and the climbing world, in general, seems to do a reasonable job at this. Not so for the former, something that this short and simple workout will fix.
by Robbie Phillips May/2011 This article has been read 204,859 times This is the first of a series of training articles and is aimed at beginners or people who are operating in the low grades and wish to improve (Approximate grade range of around UK Diff - Severe, Sport grade F3 - 4 or bouldering grade VB / UK Tech 4c). The next articles in the series will be aimed at climbers operating at higher levels, increasing as the series progresses. UKC Articles and Gear Reviews by Robbie Phillips: S o you've entered the world of rock climbing now and you can't shake the urge to go climbing more and more.