Climbing
Could Your Long Runs Be Doing More Harm than Good? | No Meat Athlete
Note that there is an updated version of this post, click here to view. Recently we have seen lots of new readers on the website who are asking wonderful questions about how to perfect their loaves. First I'd like to say welcome to the site and thank you for trying the bread. As I bake through the basic Master recipe from ABin5 I will try to answer some of the most frequently asked questions and also introduce you to a few new pieces of equipment I've recently started to use that make the whole experience just a little easier. The goal is to create a large batch of dough that stores in the refrigerator for up to two weeks.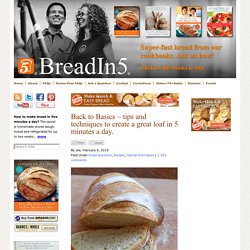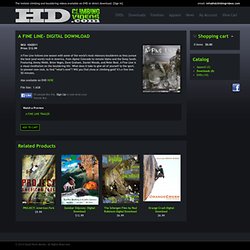 A Fine Line follows one season with some of the world's most visionary boulderers as they pursue the best (and worst) rock in America, from Alpine Colorado to remote Idaho and the Deep South. Featuring Jimmy Webb, Brion Voges, Dave Graham, Daniel Woods, and Peter Beal, A Fine Line is a visual meditation on the bouldering life. What does it take to give all of yourself to the sport, to pioneer new rock, to find "what's next"? Will you find choss or climbing gold? It's a fine line. 50 minutes. Also available on DVD HERE
A FINE LINE- DIGITAL DOWNLOAD | HD Climbing Videos
The One Workout Every Climber Should Do - Rock Climbing &Bouldering Articles - StumbleUpon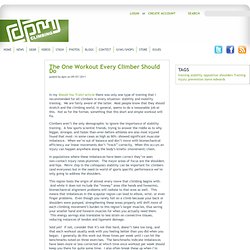 posted by dpm on 09/07/2011 In my Should You Train? article there was only one type of training that I recommended for all climbers in every situation: stability and mobility training. We are fairly aware of the latter. Most people know that they should stretch and the climbing world, in general, seems to do a reasonable job at this. Not so for the former, something that this short and simple workout will fix.
Thanks for visiting Climbing.com! Whether you're an expert climber looking for the latest news and climbing videos, or a beginner who wants to learn more about rock climbing, Climbing.com is the place. Our Skills section is packed with expert climbing advice on how to rock climb, as well as training tips for rock climbing and bouldering. The Gear pages offer hundreds of field-tested reviews of rock climbing shoes, ropes, climbing harnesses, and every other type of climbing gear and mountaineering equipment. Check out our Routes section to plan your next rock climbing or bouldering trip. Looking for inspiration?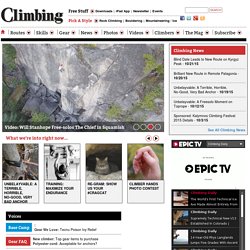 More Articles Like This Is it possible to improve your climbing without even trying? Jack Geldard thinks that a few small changes in your climbing... [ full article ] Top British Boulderer, Ned Feehally shares his experiences climbing some hard boulders both in the UK and the world, his opinions... [ full article ] In this short video from Canadian competition climber Sean McColl, we see Sean training at a private wall in Chamonix, France. ... [ full article ]