entrées
Get flash to fully experience Pearltrees
This basic hummus recipe calls for using canned garbanzo beans.
Prep Time: 10 minutes Total Time: 10 minutes Ingredients:
You can use a food processor to make baba ghanouj, but take care not to make it too smooth; this is supposed to be a rustic, slightly chunky dip. Method 1a Oven method Preheat oven to 400°F.
Une recette trouvée chez elle , délicieuse un soir d'été accompagnée d'une salade verte...
21. Crunchy Chickpeas Cook a 15-ounce can drained chickpeas in an ovenproof skillet with 2 tablespoons olive oil and 1 teaspoon each cumin and smoked paprika, 2 minutes.
Baba Ghanoush is an excellent vegetarian appetizer made from roasted eggplant, lemon juice, garlic and tahini. It is a healthy snack that can be enjoyed alongside hummus , pita bread, naan , black olives, tomato wedges and cucumber slices. This is Middle Eastern treat is always a welcome addition to my families dinner.
When Intelligentsia Coffee opened in Pasadena recently, I was intrigued the lasagna cupcakes they served. The cupcakes are made by Heirloom LA , a catering business.
Do y'all remember the scene in Runaway Bride (that's an Oscar contender if I've ever seen one…) where Julia Roberts realizes that she doesn't know how she likes her eggs? You know, because she's always turning herself into the girl that the guy she's marrying wants to be with?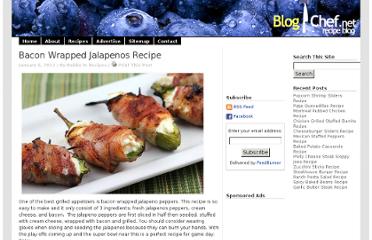 One of the best grilled appetizers is bacon wrapped jalapeno peppers.
I have never had pumpkin butter before Jenny made this. Its one of those things where I became upset when I learned and tasted that it existed.
I have to tell you after we shot this, I ate a million of these on set.
Breakfast is my favorite meal. I like to drink iced coffee and watch the cream climb its way down the chunky ice cubes in a dazy before the caffeine hits.