Virtual worlds website
SurReal Language Quests
I have been working on a way to take advantage of the unique benefits of Second Life as an educational environment while maintaining the best of what both real life education and education 2.0 have to offer. The resulting approach is a task-based "SurReal" quest that draws on Second Life, web 2.0 tools and conventional use of the internet. Example: Travel Podcast Let's consider an example SurReal Quest: the student has the task of creating a travel podcast for a location that exists both in real life and in Second Life, such as London, Berlin, Moscow, Krakow, Venice or many tourist destinations.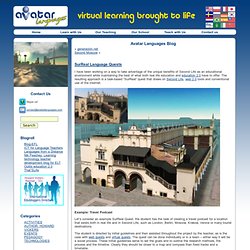 How to use 3D Virtual Environments in Language Lessons 3D virtual worlds offer us places to meet others, spaces to create our own reality and locations for us to simply exist in. Language learners can draw on these social, immersive and creative experiences to practice and improve language skills. What is it? And how is it normally used? A 3D virtual world looks and feels like an online computer game.
3D Virtual Worlds for Language Learning – a guide for teachers - AvatarLanguages.com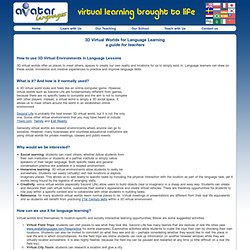 – Let Your Avatar Explore New Worlds – Read more..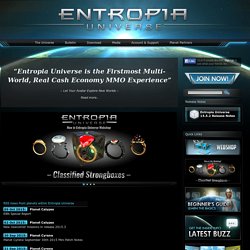 Virtual World with Avatars, free 3D Chat and Real Cities to meet new people and flirt.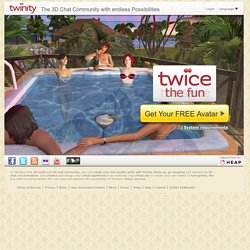 The 3D Chat Community with endless Possibilities Watch theTwinity video Operating system:Windows XP, Windows Vista or Windows 7 CPU:Pentium 4, Athlon XP 2.0 GHz, Intel® Core™ Duo 1.66 GHz or faster Memory:1 GB or more
Virtual Events, 3D Website, 3D Explorer, Live Meeting, web conferencing, virtual classroom, virtual worlds no download
Hangout.net ~ Home
With 3D environments mirroring major cities across the globe, Twinity presents a uniquely focused approach to communications and entertainment. vSide presents an interesting and lucrative mode of communicating to a young, affluent captive audience. vSide has been operating since 2006, merchandising brands such as Tyra Banks, Degrassi High and the Pussycat Dolls. With a focus on learning technologies, Learnbrite develop training applications using established technologies such as Moodle as well as simulation style learning in 3D environments. Developed specifically as a lecture hall space for shared 3D experiences, Surroundus integrates video conferencing directly into the space as one of many immersive learning tools.