MFL
Lyricsgaps.com - Learn Languages Online - Exercises Listening - Fill in the gaps. TOP Spanish Listening Websites. Wordplay - Spanish Vocabulary Game. Improve your foreign language vocabulary while playing a game. Kanal von DAADBonn. Learn 8 Foreign Languages, 12 Lessons Covers All Basic Needs | Imendi.com. Learn a Language | Free Online Language Learning. Test Your Linguistics Knowledge. Language Online: Free Foreign Language Resources. Free Online Language Courses. Instreamia - The Future of Language Learning. Can you name the Italian Days of the Week/ Months? by tzel. Test Your Knowledge With Trivia Games. Activities , Games and Quizzes in Language Translation. Flash cards, vocabulary memorization, and study games | Quizlet. ClassTools.net: Create interactive flash tools / games for education. À Tantôt Extra. Language Learning Resources - Study Guides.
The Pimsleur Approach is so powerful, and will allow you to speak a new language so quickly, that you may find yourself not only amazed and delighted at your newfound abilities, but also extremely motivated to delve more deeply into the language you've chosen to learn.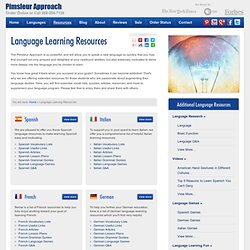 You know how great it feels when you succeed at your goals? Sometimes it can become addictive! That's why we are offering extended resources for those students who are passionate about augmenting their language studies. Here, you will find essential vocab lists, quizzes, articles, resources, and more to supplement your language program. Please feel free to enjoy them and share them with others. Flash cards, vocabulary memorization, and study games. Languages Online. Learn English, Spanish and German for free. Browse Courses. Khan Academy. Italian 101 - Learn Italian Online for Free. Italian Language Overview Italian speakers worldwide 61 million Italian speaking countries.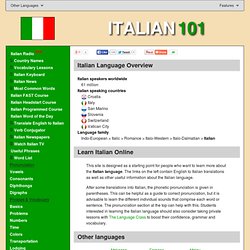 ---