Blogs
What Ed Said. Smart Blogging: How To Market Your Business Online the Smart Way! About Paul « The Good Greatsby. When Paul Johnson was a kid he swore he would never sell out…but nobody ever asked him to.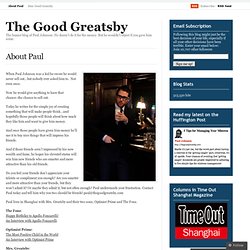 Not even once. Now he would give anything to have that chance–the chance to sell out. Today he writes for the simple joy of creating something that will make people think…and hopefully those people will think about how much they like him and want to give him money. And once those people have given him money he'll use it to buy nice things that will impress his friends. The Good Greatsby. Blog Tips – The Blog. 10 Realizations of a DSLR Newbie.
Travel Tips | Kaleidoscopic Wandering. It's never enough to just travel.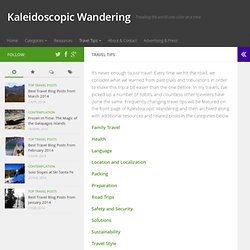 Every time we hit the road, we consider what we learned from past trials and tribulations in order to make this trip a bit easier than the one before. In my travels, I've picked up a number of tidbits, and countless other travelers have done the same. Frequently changing travel tips will be featured on the front page of Kaleidoscopic Wandering and then archived along with additional resources and related posts in the categories below. Family Travel Health. TED: Ideas worth spreading. Basics4Mac - Your Personal Mac Guide - Tips & Live Help.
---