Beer
Bread from Spent Grain
Recipe: 3 cups spent grain (wet) 1 cup flour 1 cup warm water 1 tsp yeast 1/4 cup sugar Use Spent Grain that still has a small amount of sugars still in the grain. Crystal, Munich, Maris Otter, Honey Malt are great malts to use.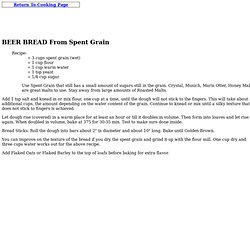 Spent Grain Uses - ProBrewer Interactive
Recipe Database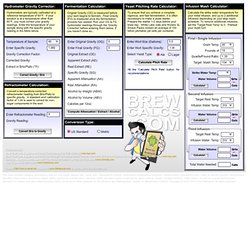 The most common brewing calculations right on one page! Always free, never ads. Calculations include: hydrometer temperature correction, refractometer calculations (brix / plato to specific gravity), fermentation specifics (attenuation, alcohol by weight (abw), alcohol by volume (abv), calories), mash calculator (water temperature, water volume, single / multiple infusion, strike water), as well as a yeast pitching rate calculator for lagers and ales. Now featuring metric conversions! Now available on the Android app Marketplace - search for 'BrewCalcs'!
BeerAdvocate - Respect Beer.