Research
Journal. Nanoparticle. Research funding. Image J. Home | news | docs | download | plugins | resources | list | links Download Platform Independent To install ImageJ 1.47 on a computer with Java pre-installed, or to upgrade to the latest full distribution (including macros, plugins and LUTs), download ij147.zip (3.2MB) and extract the ImageJ directory.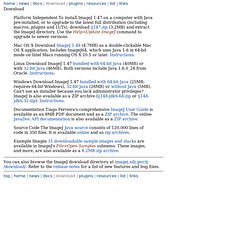 Use the Help>Update ImageJ command to upgrade to newer versions. Mac OS X Download ImageJ 1.48 (4.7MB) as a double-clickable Mac OS X application. Includes ImageJ64, which uses Java 1.6 in 64-bit mode on Intel Macs running OS X 10.5 or later. Immunpräzipitation protokoll. PubMed. Startseite Intranet.
Book about info
Cell counter program from Image. European Bioinformatics Institute | Homepage. National Center for Biotechnology Information. Barton Group. Gene. M&M protocols.
---