Funny 2
How to be Annoying
The SCP Foundation
This is going to blow your mind, so steady yourself: A carton of eggs could potentially have eggs in it. Yes.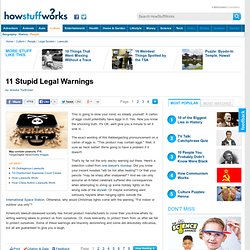 11 Stupid Legal Warnings"
15 Funny and Awesome GIFs
tsa.jpg (612×792)
william.hoza.us
Best of Paranoid Parrot | Meme Pics
Paranoid Parrot is a meme that sums up all those experiences that paranoid people tend to have. I can in all honesty say that it's scary to how much of this I can relate to. Paranoid Parrot can be paranoid about anything: its own health, other peoples' intentions, and various monsters of the mind. Personally, I blame the scaremongering media.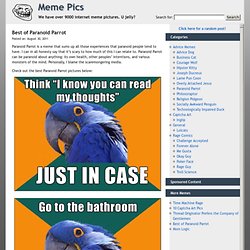 Subtitled - Tetris Melody: Complete History Of The Soviet Union. - English and Dutch
What Happens When BP Spills Coffee? (Video)
Everyone Wants to be a Superhero
"Revenge" - A Minecraft Parody of Usher's DJ Got Us Fallin' in Love - Crafted Using Noteblocks
How to keep an idiot busy
Motivational Monday: Afro Duck | Obscure Internet
Dear Human...
The Phobia List
Best of Verticles Part II
Water is dangerous
This was found on the newsgroup: rec.humor.funny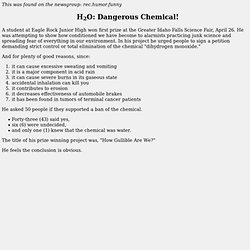 HOW TO TICK PEOPLE OFF
A.S.B. • Who doesn't like a blonde joke?
A blonde walks into a bank in New York City and asks for the loan officer.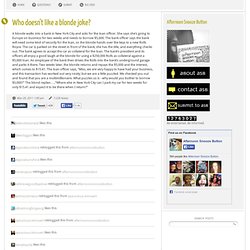 Real World Existentialism Trolling [PIC]