Tablesaw sleds
Episode #87 - Crosscut Sled
benchmark.20m.com/articles/CrosscutSleds/CrosscutSledArticle.pdf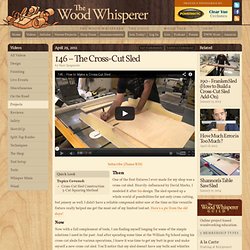 How to Make a Cross-Cut Sled | The Wood Whisperer
Subscribe (iTunes/RSS) Then One of the first fixtures I ever made for my shop was a cross-cut sled.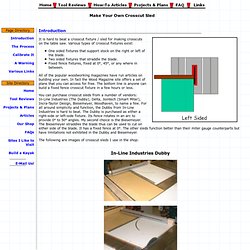 Introduction It is hard to beat a crosscut fixture / sled for making crosscuts on the table saw. Various types of crosscut fixtures exist: One sided fixtures that support stock on the right or left of the blade.
How To: Make Your Own Crosscut Sled
Build a tablesaw crosscut sled
A crosscut sled seriously increases a tablesaw's versatility. Trimming cabinet doors and drawers, mitering small pieces, and making wide crosscuts for items like shelving are all made safer and easier with a crosscut sled. The sled I describe here was made to fit a cabinet-style tablesaw, but it can be duplicated in different sizes. The secret to making an accurate, smooth-sliding sled is to build both halves of the base separately, then use the front and back fences to join them together.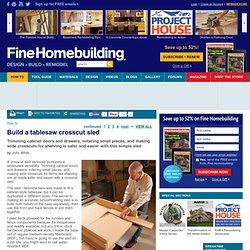 Part 2 - The Super Sled - build the tablesaw mitering and crosscut sled
woodworkinghobo's Channel
Part 1 - The Super Sled - build the tablesaw mitering and crosscut sled