iPhone
Planetbeing/iphonelinux - GitHub. iOS version history. Overview[edit] Apple's iOS did not have an official name until the release of the iPhone software development kit (iPhone SDK) on March 6, 2008.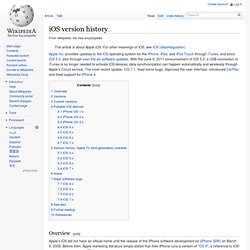 Before then, Apple marketing literature simply stated that their iPhone runs a version of "OS X", a reference to iOS' parent operating system.[1] When introduced, it was named iPhone OS. It was renamed iOS on June 7, 2010, as iPhone was no longer the only device to run iOS.[2] Apple licensed the "iOS" trademark from Cisco.[3] Versions[edit] On June 29, 2007, Apple released the first version of what became iOS – concurrently with the first iPhone.
MemoryMap - iphone-elite - Iphone kernel memory map - iPhone Elite Development Team. Lots of iPhone protocols. Consider this BSD-licensed. I'd also appreciate if you made changes through the gist interface so I can see what you've done, but no pressure :) # Very alpha still, but getting there... # Yeah, I like it this way require 'pp' require 'set' require 'zlib' require 'base64'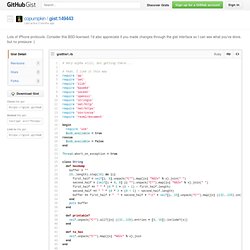 /trunk/ZiPhone/ - ziphone - Main Page - The iPhone Wiki. Hackint0sh - home of the greatest hacks and mods for OSX, OSX86, AppleTV iPhone and other iDevices. Dev-Team Blog. CiteSeerX.
---