Carbide C++
DescriptionThe Carbide.c++ IDE is designed from the ground up for developers creating Symbian C++ software for Symbian devices.
Carbide.c++
Carbide.c++ IDE and plug-ins - Nokia Developer Community - Discussions
Help - Carbide.c++
Carbide.c++ is a software development tool for C++ development on Symbian OS. It is used to develop phones that use the OS, as well as applications that run on those phones. It is based on the Eclipse IDE platform enhanced with extra plug-ins to support Symbian OS development.
Carbide.c++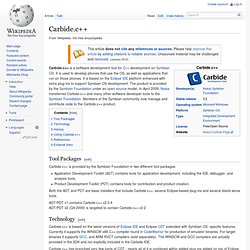 Continued Symbian C++ commitment While Qt is recommended for new Symbian development, Nokia Developer continues to provide access to tools for Symbian C++ development.
Developer - Symbian C++