Info musica
Es bastante común que el principiante tenga un miedo atroz al conocimiento exhaustivo de la teoría y la armonía en la música. Hablo de palabras como tensiones, modos, modulación... que las revistas especializadas se encargan de airear a los cuatro vientos cuando entrevistan al artista de turno, como si estas cosas fueran las bases necesarias para hacer grandes canciones, y el músico novel se frustra la mayoría de veces por no entender ni jota. Pero recordemos que la música es entre otras cosas un lenguaje y que nos permite analizar las cosas para poderlas plasmar y comunicar. No voy a intentar plantear el típico entuerto de si es necesario todo este conocimiento para hacer grandes canciones, pero hemos de entender la teoría musical como herramientas, y nadie dice que no a tener un taller lleno de ellas, en lugar de trabajar solo con una llave inglesa y un destornillador.
Cómo formar acordes instantáneamente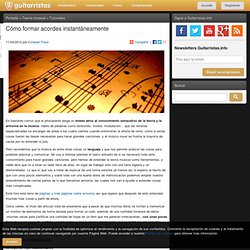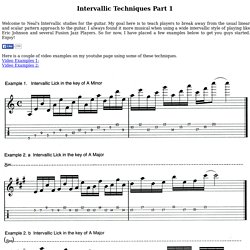 Welcome to Neal's Intervallic studies for the guitar. My goal here is to teach players to break away from the usual linear and scalar pattern approach to the guitar. I always found it more musical when using a wide intervallic style of playing like Eric Johnson and several Fusion Jazz Players.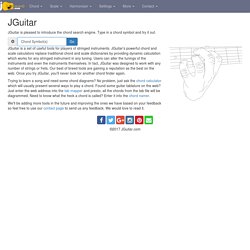 JGuitar is a set of useful tools for players of stringed instruments. JGuitar's powerful chord and scale calculators replace traditional chord and scale dictionaries by providing dynamic calculation which works for any stringed instrument in any tuning. Users can alter the tunings of the instruments and even the instruments themselves. In fact, JGuitar was designed to work with any number of strings or frets.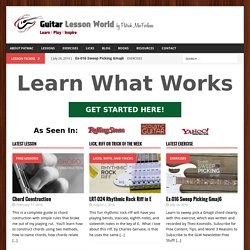 Guitar Lesson World: The Book is back in stock. Once again, you can purchase it in book or PDF form. At Guitar Lesson World, you can obtain guitar lessons on all styles and all levels.