Servicios web
PostPost - The Twitter strip search tool. SpeakPipe - listen to your customers. Dlvr.it : feed your blog to twitter and facebook. Doodle.ly. TwitFooter. QR voice. Reel – Present your ideas and reel in the feedback. Joint. Map Maker. ¿Quieres marcar el contorno del edificio?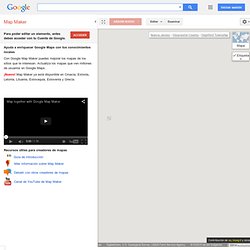 ¿Quieres marcar el límite de las instalaciones? ¿Quieres marcar el contorno del edificio o dibujar el límite de las instalaciones? Place Closed. Home | Soluto. Ducksboard. Kred - Measurable Influence. Conversión de PDF a Libro Virtual Flash. Estimados usuarios, Lamentamos anunciar que hemos decidido cerrar nuestro servicio de conversión de pdf a la page flip.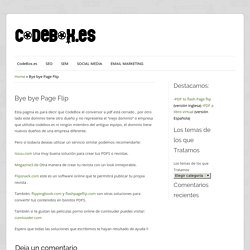 La razón principal por la que hemos tomado esta decisión es porque creemos en proveer un servicio de calidad con un buen soporte, y este no es el caso. Este proyecto comenzó como una pequeña herramienta de soporte para uno de nuestros clientes. Twextra - When you NEED more than 140 characters. !blether. Twitter Grader | Get Your Twitter Ranking. Tweepi v2.0 :: a geekier, faster way to bulk add quality followers. F | My Feedly. Publish Digital Magazines and More Online for Free | YUDU. Infographics & Data Visualizations - Visual.ly. Speaker Deck - Share Presentations without the Mess.
Get Satisfaction - Online Community Software. Gravatar - Globally Recognized Avatars. Packrati.us - Bookmark your Twitter links. Read It Later: One List Everywhere You Are. Prezi - The Zooming Presentation Editor. Herramientas para webmasters de Google - Página principal.
Feedburner - My Feeds. StatCounter Projects. Pinterest. Retweet Stats - Retweet. Ifttt. Twtpoll - From Simple Twitter Polls to Powerful Web Surveys. Social Media Feedback Tool. Ping.ly. Seesmic has been acquired by HootSuite and as of March 2013, the Seesmic website is no longer supported.
But HootSuite welcomes all Seesmic users into our nest! Here's how you can start using HootSuite today. Making the transition to HootSuite: Getting started is easy. Email Marketing and Email List Manager. Strawberry Jam | The most popular links shared by your friends. InboundWriter. Visibli: Optimize Your Social Media Engagement. SocialBro - Explore your Twitter community. Beautiful Word Clouds.
Buffer. Screenr | Instant screencasts: Just click record.
---
gonzalocav Nov 21 2011

Gracias, uso unos mas que otros, pero todos me han parecido interesantes para mi actividad y perfil.
---