Wp coding
How To Create WordPress Themes From Scratch Part 1 » Themetation. I'm going to show you how to create a wordpress theme from scratch in these 3 parts of tutorial series.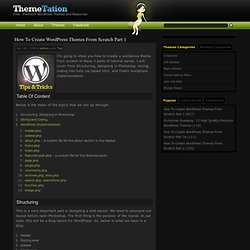 I will cover from Structuring, designing in Photoshop, slicing, coding into fully css based html, and finally wordpress implementation. Table Of Content Below is the index of the topics that we will go through: Structuring This is a very important part in designing a web layout. Category Archive for [ WordPress ] (Tutorial) How to Create a Wordpress Theme from Scratch | Morz Design. WordPress as CMS - WP Garage. How to localize a Hebrew website's Dashboard with WordPress Multisite Many of our clients request English and Hebrew websites and ever since WordPress 3.0 made WordPress Multisite a breeze to install, we've been using it so that clients can manage all their sites from one Dashboard.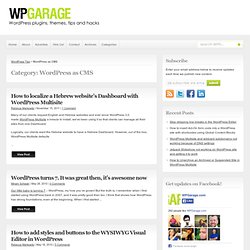 Logically, our clients want the Hebrew website to have a Hebrew Dashboard. However, out of the box, WordPress Multisite defaults ... How To Create a WordPress Theme: The Ultimate WordPress Theme Tutorial. Update: We've created a second edition of this popular tutorial!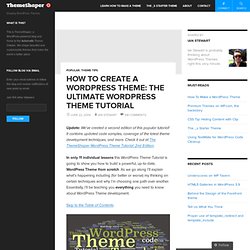 It contains updated code samples, coverage of the latest theme development techniques, and more. Check it out at The ThemeShaper WordPress Theme Tutorial: 2nd Edition. Tips | Web Design Ledger. 468 shares 5 Tips to Make Your Website Convert More Visitors A site that simply looks good and draws an audience isn't enough.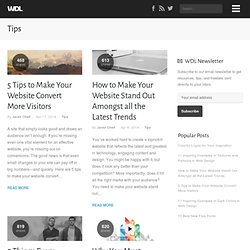 If you're missing even one vital element for an effective website, you're missing out on conversions. The good news is that even small changes to your site can pay off in big numbers—and quickly. Building Custom WordPress Theme. This is the Chapter II of the Complete WordPress Theme Guide series.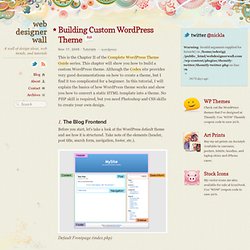 This chapter will show you how to build a custom WordPress theme. Although the Codex site provides very good documentations on how to create a theme, but I find it too complicated for a beginner. In this tutorial, I will explain the basics of how WordPress theme works and show you how to convert a static HTML template into a theme.
---