Photoshop
SuhaibWebb.com — Your Virtual Mosque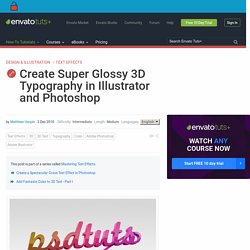 In today's tutorial we will demonstrate how to create super glossy 3D typography using Illustrator and Photoshop. Let's get started! Step 1 Open Illustrator and create a new RGB document, 1000px by 800px, 72 DPI, and write your text in a nice big font.
About Pablo Impallari. Impallari.com
This tutorial will walk you through how I created my new logo. It's nothing fancy – just a group of fonts appearing to overlap each other – giving it that three dimensional effect. It's fun and friendly – just how I want my brand to be.
Create a Simple Logo with Overlapping Text Effects | Fearless Flyer Web Design