Simulador
Fsx
Virtual_airline. NATS | AIS - Home. Bienvenido a la Web de Aena - Aena.es - Aeropuertos Españoles y Navegación Aérea. Search Page. OpenCockpits. Resolución a problemas con Flight Simulator. Manage, Fly and Connect. FSAirlines redesign DaKurt - Jan 12, 2014 We are currently working on a complete redesign of FSAirlines.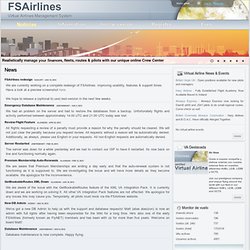 Improving usability, features & support times. Have a look at a preview screenshot here. Track your flights. Liebe Freunde und Fans der Online-Fliegerei Mit diesem Tool möchte ich jedem User, der seinen Spaß in der Online-Fliegerei gefunden hat, die Chance geben, seine vollbrachte Leistung im Flieger auch wiederzufinden.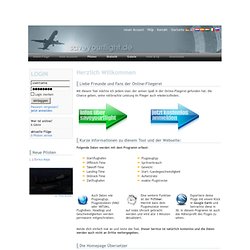 Kurze Informationen zu diesem Tool und der Webseite: ALPHASIM Quality Add-ons for MS Flight Simulator. Goalprice.com. Flightsim Aviation Zone - Number 1 Flight Simulation & Aviation Resource! - Flight Simulator, Aviation Databases. Www.simulalo.com. WidevieW and other tools for Flight Simulator and Cockpit Builders. Virtual Pilots Association. Flight Simulator add-ons Airbus Boeing Embraer Cessna, A380 simulation, VRinsight, Instrument panel, Tower - Wilco Publishing since 1997. Flight Simulator X Downloads: FSX, FS2004, FSX Scenery, FSX Aircraft, - Home. Fly Away Simulation, Flight Simulator #1. FS Panel Studio: Microsoft Flight Simulator Panel Editor. SimFlyer® Avionics for Flightsim - Microsoft Flight Simulator X FS2004 ... Abacus Main Menu.
FSnordic.net - Flight Simulator Nordic. Дальняя Авиация. История и наши дни.. Сценарий Домодедово. Ан-70. Судьба самоле - Avsim.su. Flusi.info. Simviation Freeware Addons for Flight Simulator. Flight Simulator X, FS2004 - Thousands of free high quality add-ons for Microsoft's Flight Simulatorseries and other PC Flight Simulators! Quality Freeware Add-ons! FlightSim.Com - World's #1 Flight Simulator Site For Downloads, Files, News, Reviews, Add-ons. AVSIM Online - Flight Simulation, Flightsim, flight sim, flight simulator, fsx, fs10.
Microsoft FSX, FS2004, 2002, CFS3, CFS2 Add-ons! The Biggest Freeware Dedicated Flight Simulator Archive on the Planet! RouteFinder (free access area) // 2010-02-17 15:54:00 //Fixed a problem with North Atlantic Tracks.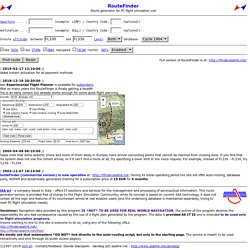 Recently many airways west of Ireland were withdrawn and the NATs became unconnected, giving RouteFinder a really hard time to find routes between Europe an Americas. The system now does a pseudo random routing in that area (with DCT segments) to jump the gap. Flight Simulator tutoriales. SimTube Flight Sim Videos.
---