Remembrance Days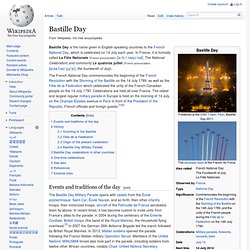 Storming of the Bastille, by Jean-Pierre-Louis-Laurent Houel Bastille Day is the name given in English-speaking countries to the French National Day, which is celebrated on 14 July each year. In France, it is formally called La Fête Nationale (French pronunciation: ​[la.fɛːt.na.sjɔˈnal] ; The National Celebration) and commonly Le quatorze juillet (French pronunciation: ​[lə.ka.tɔʁz.ʒɥiˈjɛ] ; the fourteenth of July). The French National Day commemorates the beginning of the French Revolution with the Storming of the Bastille on the 14th July 1789, as well as the Fête de la Fédération which celebrated the unity of the French people on the 14th July 1790. Celebrations are held all over France. The oldest and largest regular military parade in Europe is held on the morning of 14 July, on the Champs-Élysées avenue in Paris in front of the President of the Republic, French officials and foreign guests.[1][2]
Bastille Day
ANZAC Day
Friday 25 April 2014 Record numbers attended ceremonies at the Australian War Memorial on ANZAC Day 2013 with 35,000 attending the Dawn Service and a further 17,000 attending the National Ceremony. ANZAC Day goes beyond the anniversary of the landing on Gallipoli in 1915.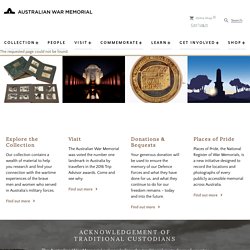 First World War 1914–18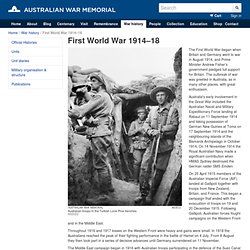 Australian troops in the Turkish Lone Pine trenchesA02022 The First World War began when Britain and Germany went to war in August 1914, and Prime Minister Andrew Fisher's government pledged full support for Britain.
Many countries have a special day to remember those that fell in their wars; America has Veterans Day, while France has Armistice Day. The British commemorate those who fought, and are still fighting, in wars for their country on Remembrance Day. The British Remembrance Day is always held on the 11 November. This is the day that World War One ended in 1918, when the armistice was signed in Compiègne, Northern France, at 5am.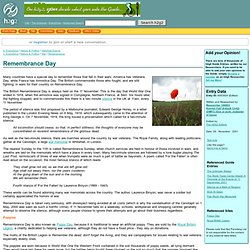 h2g2 - Remembrance Day - A653924
Remembrance Day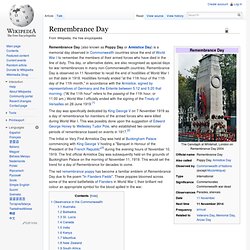 The day was specifically dedicated by King George V on 7 November 1919 as a day of remembrance for members of the armed forces who were killed during World War I. This was possibly done upon the suggestion of Edward George Honey to Wellesley Tudor Pole, who established two ceremonial periods of remembrance based on events in 1917.[2] The Initial or Very First Armistice Day was held at Buckingham Palace commencing with King George V hosting a "Banquet in Honour of the President of the French Republic"[3] during the evening hours of November 10, 1919.