Remembrance Days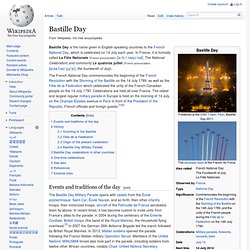 Prise de la Bastille by Jean-Pierre-Louis-Laurent Houel Bastille Day is the name given in English-speaking countries to the French National Day , which is celebrated on the 14th of July each year. In France, it is formally called La Fête Nationale ( French pronunciation: ​ [la.fɛːt.na.sjɔˈnal] ; The National Celebration ) and commonly Le quatorze juillet ( French pronunciation: ​ [lə.ka.tɔʁz.ʒɥiˈjɛ] ; the fourteenth of July ). It commemorates the 1790 Fête de la Fédération , held on the first anniversary of the storming of the Bastille on 14 July 1789; the anniversary of the storming of the Bastille fortress-prison was seen as a symbol of the uprising of the modern nation, and of the reconciliation of all the French inside the constitutional monarchy which preceded the First Republic , during the French Revolution . Festivities and official ceremonies are held all over France.
Bastille Day
ANZAC Day
Thursday 25 April 2013 ANZAC Day goes beyond the anniversary of the landing on Gallipoli in 1915. It is the day we remember all Australians who served and died in all wars, conflicts, and peacekeeping operations.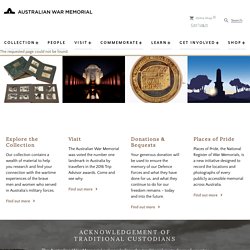 First World War 1914–18
Australian troops in the Turkish Lone Pine trenches A02022 The First World War began when Britain and Germany went to war in August 1914, and Prime Minister Andrew Fisher's government pledged full support for Britain. The outbreak of war was greeted in Australia, as in many other places, with great enthusiasm. Australia's early involvement in the Great War included the Australian Naval and Military Expeditionary Force taking possession of German New Guinea and the neighbouring islands of the Bismarck Archipelago in October 1914. In November 1914 the Royal Australian Navy made a significant contribution when HMAS Sydney destroyed the German raider SMS Emden .
Many countries have a special day to remember those that fell in their wars; America has Veterans Day, while France has Armistice Day. The British commemorate those who fought, and are still fighting, in wars for their country on Remembrance Day. The British Remembrance Day is always held on the 11 November. This is the day that World War One ended in 1918, when the armistice was signed in Compiègne, Northern France, at 5am.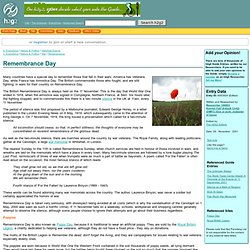 h2g2 - Remembrance Day - A653924
Remembrance Day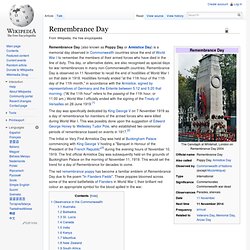 Remembrance Day (also known as Poppy Day or Armistice Day ) is a memorial day observed in Commonwealth countries since the end of World War I to remember the members of their armed forces who have died in the line of duty. This day, or alternative dates, are also recognised as special days for war remembrances in many non-Commonwealth countries. Remembrance Day is observed on 11 November to recall the end of hostilities of World War I on that date in 1918.