Downs Syndrome Awareness
Phil Foreman and Geoff Crews This paper reports the use of two forms of augmentative and alternative communication (AAC) with young children with Down syndrome: a program using signing (Makaton), and the COMPIC system of computerised pictographs. Children with Down syndrome are frequently reported to have difficulties in the area of language and communication, with relative strengths in visual and perceptual areas. This suggests possible benefits from the use of AAC systems to enhance language development. The paper discusses the use of AAC systems to assist young children with Down syndrome, and reports an experimental study of the use of such systems with an object naming task. Foreman P, Crews G.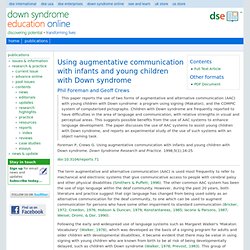 Using augmentative communication with infants and young children with Down syndrome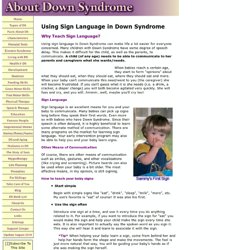 Sign Language in Down Syndrome
Why Teach Sign Language? Using sign language in Down Syndrome can make life a lot easier for everyone concerned. Many children with Down Syndrome have some degree of speech delay. This makes it difficult for the child, as well as the parents, to communicate.
Signing and Lexical Development in Children with Down Syndrome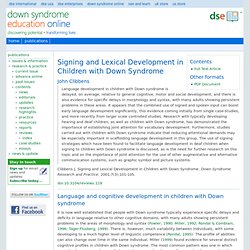 John Clibbens Language development in children with Down syndrome is delayed, on average, relative to general cognitive, motor and social development, and there is also evidence for specific delays in morphology and syntax, with many adults showing persistent problems in these areas. It appears that the combined use of signed and spoken input can boost early language development significantly, this evidence coming initially from single case-studies, and more recently from larger scale controlled studies. Research with typically developing hearing and deaf children, as well as children with Down syndrome, has demonstrated the importance of establishing joint attention for vocabulary development. Furthermore, studies carried out with children with Down syndrome indicate that reducing attentional demands may be especially important in scaffolding language development in this group.
DownSyndrome.com
Down syndrome
Many children with Down syndrome are educated in regular school classes while others require specialised educational facilities. Some children graduate from high school,[3] and, in the US, there are increasing opportunities for participating in post-secondary education.[4] Education and proper care has been shown to improve quality of life significantly.[5] Many adults with Down syndrome are able to work at paid employment in the community, while others require a more sheltered work environment.[3] Down syndrome is the most common chromosome abnormality in humans.[6] About 1.4 per 1000 babies born in the United States each year are born with Down syndrome.[7] Down syndrome is named after John Langdon Down, the British physician who described the syndrome in 1866.[8] The condition was clinically described earlier by Jean-Étienne Dominique Esquirol in 1838 and Édouard Séguin in 1844.[9] Down syndrome was identified as a chromosome 21 trisomy by Dr.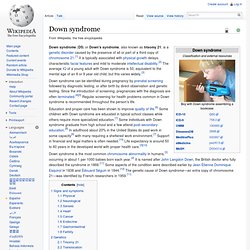 Down's Syndrome Association - Help for people with Down's Syndrome