Downs Syndrome Awareness
Phil Foreman and Geoff Crews This paper reports the use of two forms of augmentative and alternative communication (AAC) with young children with Down syndrome: a program using signing (Makaton), and the COMPIC system of computerised pictographs. Children with Down syndrome are frequently reported to have difficulties in the area of language and communication, with relative strengths in visual and perceptual areas. This suggests possible benefits from the use of AAC systems to enhance language development. The paper discusses the use of AAC systems to assist young children with Down syndrome, and reports an experimental study of the use of such systems with an object naming task. Foreman P, Crews G.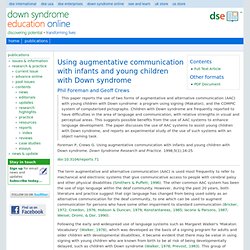 Using augmentative communication with infants and young children with Down syndrome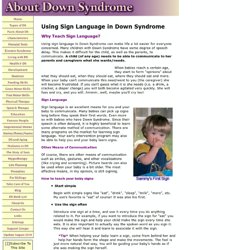 Sign Language in Down Syndrome
Why Teach Sign Language? Using sign language in Down Syndrome can make life a lot easier for everyone concerned. Many children with Down Syndrome have some degree of speech delay. This makes it difficult for the child, as well as the parents, to communicate.
Signing and Lexical Development in Children with Down Syndrome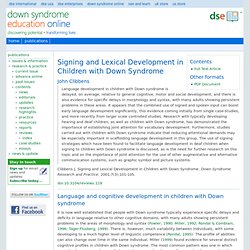 John Clibbens Language development in children with Down syndrome is delayed, on average, relative to general cognitive, motor and social development, and there is also evidence for specific delays in morphology and syntax, with many adults showing persistent problems in these areas. It appears that the combined use of signed and spoken input can boost early language development significantly, this evidence coming initially from single case-studies, and more recently from larger scale controlled studies. Research with typically developing hearing and deaf children, as well as children with Down syndrome, has demonstrated the importance of establishing joint attention for vocabulary development. Furthermore, studies carried out with children with Down syndrome indicate that reducing attentional demands may be especially important in scaffolding language development in this group.
DownSyndrome.com
Down syndrome
Down syndrome ( DS ) or Down's syndrome , also known as trisomy 21 , is a chromosomal condition caused by the presence of all or part of a third copy of chromosome 21 . [ 1 ] Down syndrome is the most common chromosome abnormality in humans. [ 2 ] It is typically associated with a delay in cognitive ability ( mental retardation , or MR) and physical growth , and a particular set of facial characteristics. [ 1 ] The average IQ of young adults with Down syndrome is around 50, whereas young adults without the condition typically have an IQ of 100. [ 1 ] [ 3 ] (MR has historically been defined as an IQ below 70.) A large proportion of individuals with Down syndrome have a severe degree of intellectual disability . [ 1 ]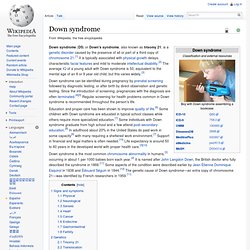 Down's Syndrome Association - Help for people with Down's Syndrome