A Cut to Far
Our guide to current economic myths – and the essential articles and blogs that debunk them.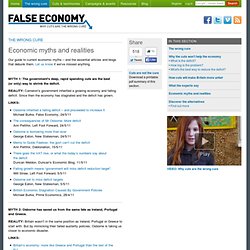 Economic myths and realities | The wrong cure
OAP fury over pension reforms | Moneywise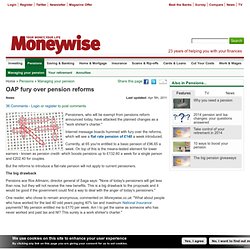 Pensioners, who will be exempt from pensions reform announced today, have attacked the planned changes as a "work shirker's charter."
Shelter Cymru on rise in help calls from middle-class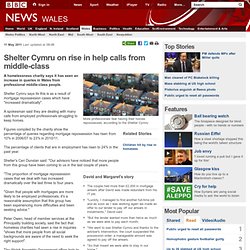 11 May 2011Last updated at 04:08 ET
How the secretary of state for health proposes to abolish the NHS in England -- Pollock and Price 342 -- bmj.com
Allyson M Pollock, professor , David Price, senior research fellow Author Affiliations Correspondence to: A M Pollock allyson.pollock@gmail.comAccepted 9 March 2011 Allyson Pollock and David Price examine the proposed statutory changes to the NHS and raise concerns that the government's role could be reduced to that of payer The coalition government's Health and Social Care Bill 2010-11 heralds the most controversial reform in the history of the NHS in England.1 2 3 The government plans to replace the NHS system of public funding and mainly public provision and public administration with a competitive market of corporate providers in which government finances but does not provide healthcare.4 Primary care trusts and strategic health authorities are to be abolished and replaced by general practice commissioning consortiums, which all practices must join.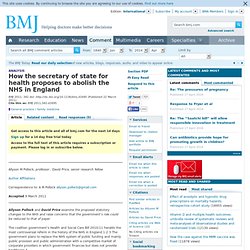 LHE - London Health Emergency
Memorandum submitted by Julie Partridge (HS 124)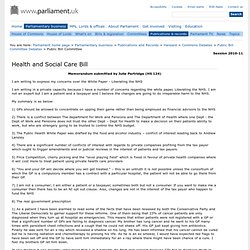 Health and Social Care Bill
Westons breached charity law over Tory donations - Times Online
Press release: UK Uncut Occupy Tax Dodgers Fortnum and Mason | UK Uncut
UK Uncut secret occupation revealed as Fortnum & Mason 3.30pm – UK Uncut occupy Fortnum & Mason and aim to stay for as long as possible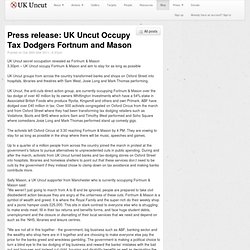 It Cuts Both Ways...The Alternatives on Vimeo
30 November 2010Last updated at 20:16 GMT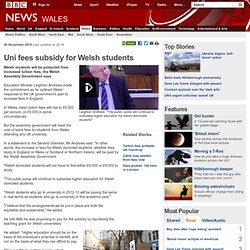 Uni fees subsidy for Welsh students
Perhaps we should scream. Before it's too late - Comment - TES Connect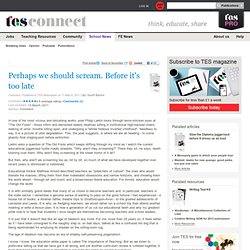 Comment:4.5 average rating | Comments (3)Last Updated:13 March, 2011Section:Comment In one of his most vicious and disturbing works, poet Philip Larkin looks through terror-stricken eyes at "The Old Fools" - those infirm and demented elderly relatives sitting in institutional high-backed chairs, reeking of urine, mouths lolling open, and undergoing a "whole hideous inverted childhood".
By Becky Barrow UPDATED: 15:08 GMT, 18 March 2011
Taxpayer-backed RBS paid more than £1m to 323 staff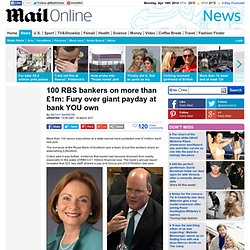 By James Coney UPDATED: 22:30 GMT, 19 March 2011 And parents could be penalised for paying off their children's debts The biggest student loan in England is £66,150, with the 20 largest debts owed to the Student Loans Company totalling more than £1million.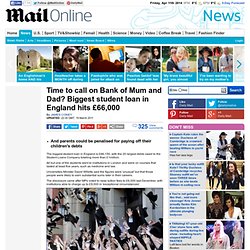 Graduates face paying back staggering £83k for taking out full student loans
8 March 2011Last updated at 02:18 ET The BCC says a rate rise now would be premature
UK economy growth forecast for 2011 cut by BCC
26 January 2011Last updated at 12:22 ET By Tim Weber Business editor, BBC News website, Davos
Davos 2011: Soros warns UK cuts could cause recession
UK cuts 'to push unemployment close to 3m'
10 June 2010Last updated at 09:22 ET
Doctors 'want halt to NHS plans but reject opposition'
15 March 2011Last updated at 08:22 ET By Nick Triggle and Jane Hughes BBC News Doctors are debating the changes to the NHS in England Doctors have called on the government to put a halt to its overhaul of the NHS in England, but have stopped short of opposing the plans outright.
Library clears its shelves in protest at closure threat | Books
The library at Stony Stratford, on the outskirts of Milton Keynes, looks like the aftermath of a crime, its shell-shocked staff presiding over an expanse of emptied shelves. Only a few days ago they held 16,000 volumes. Now, after a campaign on Facebook, there are none. Every library user was urged to pick their full entitlement of 15 books, take them away and keep them for a week.
Conservatives slam parish council proposals for London | The-Latest.com
Warning: they want us to pay the private sector to make a profit from NHS
UK | all | Cuts and testimonies
Barclays UK corporation tax bill for 2009 was £113m
The coalition government's Localism Bill is inconsistent and restrictive for local government. Ministers are actually legislating for a confusing mix of new central controls and only minor local 'freedoms' » British politics and policy at LSE
Localism: How far can it go?
Cameron's magical thinking can't save this national joke | Polly Toynbee | Comment is free
Cash for internships: Tory backers pay £2k a time to buy children work experience
Financial Secrecy Index
UnitedKingdom_CityLondon
A Corporate Coup d?Etat
Statement on tax - Vodafone
Cash for internships: Tory backers pay £2k a time to buy children work experience
Taxman faces probe into £6bn Vodafone 'let-off'
To us, it's an obscure shift of tax law. To the City, it's the heist of the century | George Monbiot | Comment is free
Warning: they want us to pay the private sector to make a profit from NHS
It began offshore… | The Architecture of Transparency