Japanese Language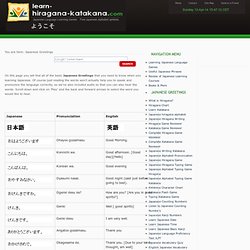 On this page you will find all of the basic Japanese Greetings that you need to know when you learning Japanese. Of course just reading the words won't actually help you to speak and pronounce the language correctly, so we've also included audio so that you can also hear the words.
Japanese Greetings Basic Japanese Greetings, Japanese Greetings and Expressions
Japanese counter word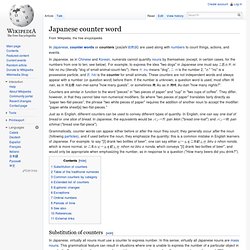 In Japanese , counter words or counters ( josūshi 助数詞 ) are used along with numbers to count things, actions, and events. In Japanese, as in Chinese and Korean , numerals cannot quantify nouns by themselves (except, in certain cases, for the numbers from one to ten; see below). For example, to express the idea "two dogs" in Japanese one must say 二匹の犬 ni hiki no inu (literally "two small-animal of dog").
Learning Japanese Language Games, Free japanese alphabet symbols
Japanese Childrenbooks - Practice reading Hiragana !
Tim Sensei's Corner