Edu
Parsons Paris School of Art and Design. Paris College of Art (PCA) is a private university with four campuses in Paris, France.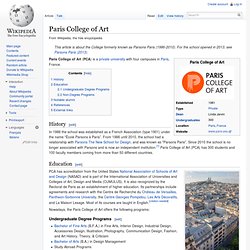 History[edit] In 1986 the school was established as a French Association (type 1901) under the name "École Parsons à Paris". From 1986 until 2010, the school had a relationship with Parsons The New School for Design, and was known as "Parsons Paris". Parsons Aburptly Halts Paris Program | The New School Free Press. Parsons Paris president Serge Guarino and academic director Bridget O'Rourke couldn't be reached for this article.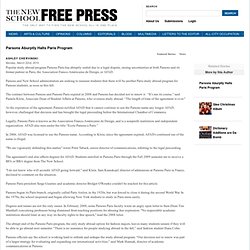 Parsons began its Paris branch, originally called Paris Atelier, in the 1920s, but was forced to close it during the second World War. In the 1970s, the school reopened and began allowing New York students to study in Paris more easily. Degrees and names are not the only issues. Ecole Parsons à Paris | Portal. Ecole Parsons à Paris | Portal. MonParis is a dynamic web environment with information catered to your needs whether you are a future, current or former student, faculty or staff member.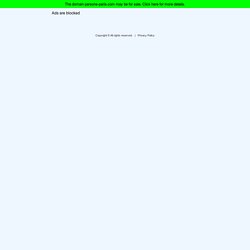 Via MonParis request catalogs, apply for our programs, view your application status and get information about coming to Paris as a student. View course information, register for classes, pay your bills, consult your schedule, see your grades and much more. Post syllabi and handouts, submit grades online and communicate with your students. Master of Fine Arts in Design and Technology (MFA) at Parsons. The MFA in Design and Technology explores the social and cultural dimensions of technological change.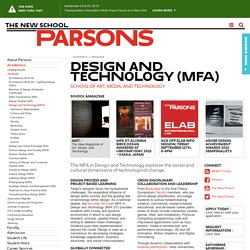 Today's designer faces two fundamental challenges: the expanding influence of design within society and the growing role of technology within design. As a terminal degree, the two-year, 60-credit MFA in Design and Technology (MFA DT) provides students with a lively and dynamic environment in which to use design research, process, applied theory, and writing to address these challenges. Students push their experimentation beyond the visual: Design is seen as a mechanism for developing strategies, knowledge organization, business structures, and social consciousness. Building on the expertise of our faculty and networks in New York and abroad, Parsons will offer MFA DT on our new Paris campus starting in fall 2014.
Home - FAFSA on the Web-Federal Student Aid. Parsons The New School for Design. Parsons Graduate Programs 2012 Home - Embark Apply Online. Recruit Create automated marketing campaigns.
Track your candidate pool throughout the admissions process using dynamic reporting. Apply.
---