Fun facts
Masturbation List: Over 1,000 Ways to Say Masturbate. - StumbleUpon. 88 Strange But True Sex Facts - Lustability. During the months of research which have gone into devising our sexual compatibility test, we've uncovered some pretty extraordinary facts.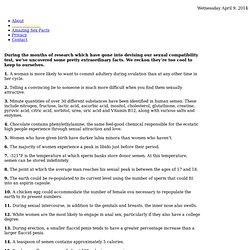 We reckon they're too cool to keep to ourselves. 1. A woman is more likely to want to commit adultery during ovulation than at any other time in her cycle. 2. Telling a convincing lie to someone is much more difficult when you find them sexually attractive. The International Encyclopedia of Sexuality. Edited by Robert T.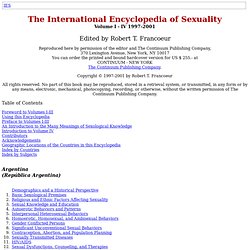 Francoeur Reproduced here by permission of the editor and The Continuum Publishing Company,370 Lexington Avenue, New York, NY 10017 You can order the printed and bound hardcover version for US $ 255.- at CONTINUUM - NEW YORKThe Continuum Publishing Company. Copyright © 1997-2001 by Robert T. Francoeur All rights reserved. From Caveman Porn to Dirty-Talking Blow-up Dolls: The History of Sex Toys. Female Orgasm Secrets - Information about Women's Orgasms. Shagnasty's Penis Owners Manual. The Vagina, A User's Guide. Includes How to Use a Penis at no extra charge So Bucky, you've found a vagina but you don't know how to use it.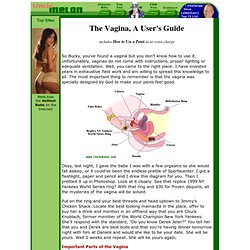 Unfortunately, vaginas do not come with instructions, proper lighting or adequate ventilation. Well, you came to the right place.
---