Aliens!
Version for printing The Babylonian civilisation in Mesopotamia replaced the Sumerian civilisation and the Akkadian civilisation. We give a little historical background to these events in our article Babylonian mathematics. Certainly in terms of their number system the Babylonians inherited ideas from the Sumerians and from the Akkadians. From the number systems of these earlier peoples came the base of 60, that is the sexagesimal system. Yet neither the Sumerian nor the Akkadian system was a positional system and this advance by the Babylonians was undoubtedly their greatest achievement in terms of developing the number system.
Babylonian numerals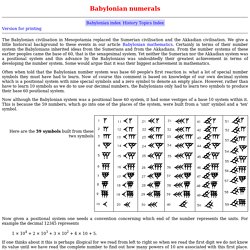 National UFO Reporting Center
Travis Walton Author of Fire in the Sky and The Walton Experience "I looked at the vague but reassuring forms of the doctors around me. Abruptly my vision cleared. The sudden horror of what I saw rocked me as I realized I was definitely not in a hospital. I was looking square into the face of a horrible creature . . . with huge, luminous brown eyes the size of quarters!