untested back up software
Get flash to fully experience Pearltrees
The bootcfg command is a Microsoft Windows XP Recovery Console command that manipulates the Boot.ini file. This command has a function that can scan your hard disks for Microsoft Windows NT, Microsoft Windows 2000, and Windows XP installations, and then add them to an existing Boot.ini file or rebuild a new Boot.ini file, if one does not exist. The bootcfg command enables additional Boot.ini file parameters to be added to existing or new entries. To use the bootcfg command, start the Recovery Console with the Windows XP CD-ROM, and then click Recovery Console.
The Parted Magic OS employs core programs of GParted and Parted to handle partitioning tasks with ease, while featuring other useful software (e.g. Partimage, TestDisk, Truecrypt, Clonezilla, G4L, SuperGrubDisk, ddrescue, etc…) and an excellent set of info to benefit the user. Parted Magic is licensed under the GPL , so an extensive collection of file system tools are also included, as Parted Magic supports the following: btrfs, exfat, ext2, ext3, ext4, fat16, fat32, hfs, hfs+, jfs, linux-swap, ntfs, reiserfs, reiser4, xfs, and zfs. Parted Magic requires at least a i686 processor and 312MB of RAM to operate or 175MB in "Live" mode. Features Format internal and external hard drives.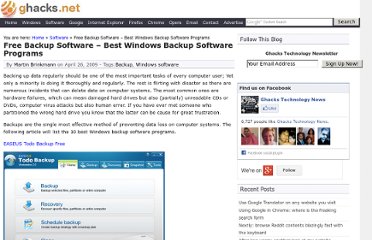 Backing up data regularly should be one of the most important tasks of every computer user; Yet only a minority is doing it thoroughly and regularly. The rest is flirting with disaster as there are numerous incidents that can delete data on computer systems. The most common ones are hardware failures, which can mean damaged hard drives but also (partially) unreadable CDs or DVDs, computer virus attacks but also human error. If you have ever met someone who partitioned the wrong hard drive you know that the latter can be cause for great frustration.
Features Unlike "rsync", DeltaCopy is a only available for Windows and is tightly integrated with services available only on Microsoft platforms (XP, 2000, 2003, Vista, Windows 7 & 2008). Here is a list of features Incremental backup - Copies part of the file that is actually modified Task scheduler - Profiles in DeltaCopy can run based on a schedule Email notification - Administrators can receive email confirmation on successful as well as failed transfers One-click restore - Backed up files can be easily restored.
Creating Data-Backups Has Never Been This Easy. Viruses, user errors and computer crashes put you at risk to lose important data at any time. Therefore, it is crucial to secure your files regularly so that in cases of emergency, your computer data is still accessible.