Woooong
Roman History
iGoogle. Science. Einstein and his Violin. Spanish. Christianity. Christianity. CHRISTIAN BLOGS. South Korea News. 일간지. U.S. National News (General) David Brooks. David Brooks became a New York Times Op-Ed columnist in September 2003.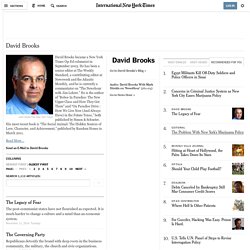 He has been a senior editor at The Weekly Standard, a contributing editor at Newsweek and the Atlantic Monthly, and he is currently a commentator on "The Newshour with Jim Lehrer. " He is the author of "Bobos In Paradise: The New Upper Class and How They Got There" and "On Paradise Drive : How We Live Now (And Always Have) in the Future Tense," both published by Simon & Schuster. His most recent book is "The Social Animal: The Hidden Sources of Love, Character, and Achievement," published by Random House in March 2011. The Heritage Foundation.
Patrick J. Buchanan: Conservative Articles.
---