Zensur und vds
s Blog
I defended my dissertation proposal in early 2008 but the majority of the literature most relevant and helpful to my doctoral research surfaced in 2009 and 2010. So I'm rather grateful to the PhD program at The Fletcher School for letting me run with my chosen dissertation topic given the limited empirical literature to draw on back then.
The Digital Origins of Dictatorship and Democracy
Studie zum Übergang von der Selbstregulierung zur Zensur im Internet : netzpolitik.org
Die europäische Netzwerk für Bürgerrechte im digitalen Zeitalter, European Digital Rights (EDRi) , hat eine interessante Studie zum Thema Netzneutralität und Netz-Regulierung veröffentlicht. Sie trägt den Titel "Von der 'Selbstregulierung' zur Zensur durch Unternehmen" (The slide from "self-regulation" to corporate censorship). In der Einführung heißt es: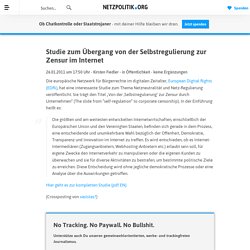 FDP kippt bei Vorratsdatenspeicherung um : netzpolitik.org
schaubilder_wirksamkeit_vorratsdatenspeicherung_2011-01-26.pdf (application/pdf-Objekt)
Ägypten: Wie die Infrastruktur, so die Politik : netzpolitik.org
Wer noch vor ein paar Wochen in netzpolitischen oder Hacker-Gesprächskreisen über die Abschaltung des Internets oder bestimmter Fernsehsender , und über die Notwendigkeit redundanter und dezentraler Strukturen philosophiert hat, lief Gefahr, vielleicht als "ein bisschen zu paranoid" bezeichnet zu werden. In Zeiten, in denen auch der größere Teil der westlichen Bevölkerung nicht nur "nichts zu verbergen" hat, sondern sogar das offensive Gegenteil dessen von einer kleinen sich als besonders progressiv empfindenden Minderheit als erstrebenswert propagiert wird, ist das eben so.