Curriculum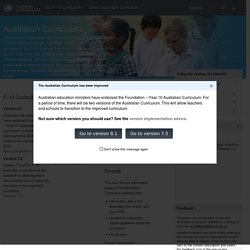 NARRATOR: The digital education revolution isn't coming. It arrived some time ago. Have a listen to what teachers are saying.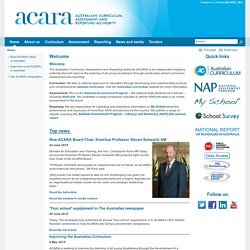 The Australian Curriculum Assessment and Reporting Authority (ACARA) is an independent authority providing a rigorous, national approach to education through the national curriculum, national assessment program and national data collection and reporting program. ACARA collaborates with teachers, principals, governments, state and territory education authorities, professional education associations, community groups and the general public to develop national education standards that are applied across every school in Australia. ACARA's mission is to improve the learning of all young Australians through world-class school curriculum, assessment and reporting. Significant reports including the annual National Report on Schooling in Australia– the major report of statistical and related information about educational outcomes – and national data standards manuals are published on this site in the Reporting section.
Melbourne Declaration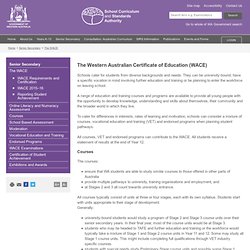 WACE
Schools cater for students from diverse backgrounds and needs. They can be university-bound, have a specific vocation in mind involving further education and training or be planning to enter the workforce on leaving school. A range of education and training courses and programs are available to provide all young people with the opportunity to develop knowledge, understanding and skills about themselves, their community and the broader world in which they live. To cater for differences in interests, rates of learning and motivation, schools can consider a mixture of courses, vocational education and training (VET) and endorsed programs when planning student pathways. All courses, VET and endorsed programs can contribute to the WACE.