University
UNI Hamburg English
Master's Degree Programs in English : Master of Peace and Security Studies (M.P.S.)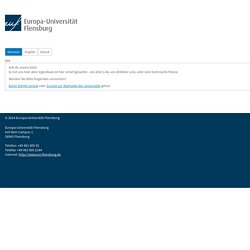 Studying in Flensburg
Moin Moin in Flensburg - Welcome to Flensburg! On these pages incoming international students can find information on the admission to the Erasmus and other exchange programs, admission to full-time study at undergraduate or graduate level, the course offer at the University of Flensburg as well as information on living and housing, health insurance and visa procedures. Located directly at the German-Danish border and with a population of ca. 90,000, Flensburg is bustling with quirky small-town atmosphere and a unique combination of Danish and German culture. Situated at the innermost tip of the Flensburg Fjord, it is considered the ʻgateway to Scandinavia' as well overland as by sea and offers over 700 years of history ready to be discovered!
Master's degree programmes offered in English - University of Oslo
Berlin School of Economics and Law:  Study Programmes
Berlin School of Economics and Law:  International Strategic Management
Master of Arts (M.A.) The Master in International Strategic Management at the Berlin School of Economics and Law (BSEL) is designed for graduates from Germany and abroad who have completed a first university degree (usually a Bachelor) and would like to study for a post-graduate degree in an international group of students. The programme prepares students for positions which require strategic cross-functional competencies in international companies, such as consulting firms, or international investment promotion bodies. This may concern for instance internal and external project management and consulting roles, team membership in strategy and change management projects, assistant positions to executives with global responsibilities. Courses are predominately structured as interactive seminars and taught in English.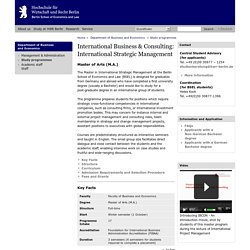 Berlin School of Economics and Law:  International Marketing Management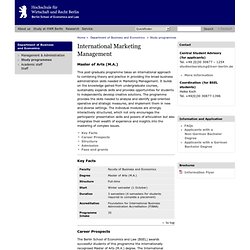 Master of Arts (M.A.) This post-graduate programme takes an international approach to combining theory and practice in providing the broad business administration skills needed in Marketing Management. It builds on the knowledge gained from undergraduate courses, sustainably expands skills and provides opportunities for students to independently develop creative solutions. The programme provides the skills needed to analyse and identify goal-oriented operative and strategic measures, and implement them in new and diverse settings.